18th Oct 2021
Personal tragedy leads to Talking Benches
After an extremely challenging 18 months, many people across the islands are still feeling socially isolated.  This isolation can have many causes and affects all ages.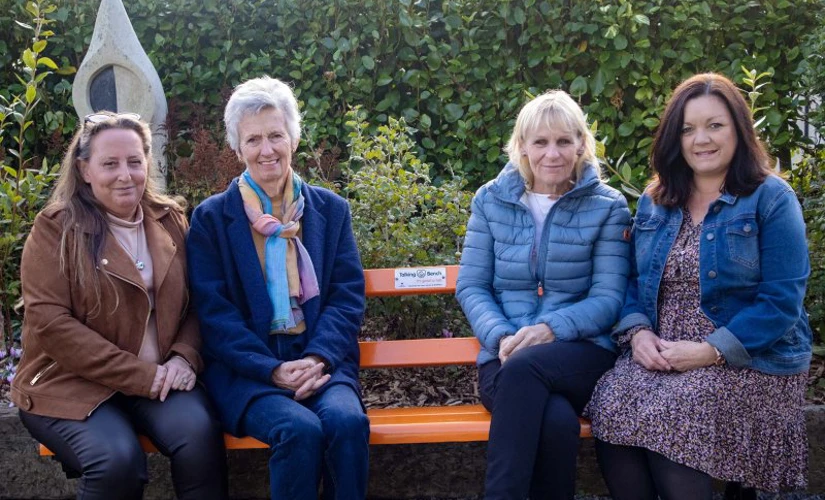 It is well known that when people talk to each other life can be better, which is why a brand new 'Talking Bench' has been created in St Martins, outside the parish hall. This follows the first 'Talking Bench' located at Petit Bot.
Organisers hope it is the first of many that will appear across all parishes. It is the brainchild of Aileen Morgan, Colette Mahy and Sarah Bamford, three local ladies who have suffered the tragic effects of losing their sons to suicide.
By joining forces with Age Concern, and with the kind support of the St Martin's Constables, they want to create more of these benches in other parishes to encourage people to talk, thereby improving lives. This can involve simple conversations about anything from the weather to favourite music, or simply listening to a stranger who might want to talk
They hope that the first two 'Talking Benches' will be the start of many such benches across the islands – the St Martins bench has been painted in bright orange by the Bridge-based charity Go, to make it clearly visible and has a plaque on it saying 'Please Talk'. A few minutes of your time could make a huge difference to someone's life.
Co-founder, Colette Quertier, said:
"There is no substitute for talking to people which is why we wanted to launch this initiative. I'd encourage residents to take a moment and make time for a chat and brighten someone's day – I think this will be so important to those who are troubled and feel desperate as well as those who feel isolated and lonely, and will make a big difference in people's lives."  A few kind words can change a person's day.
Sarah Bamford added:
"The purpose of the benches is to encourage people to stop and talk to the person sitting on the bench. Just a cheery five-minute chat with a total stranger is an act of kindness which could make a difference to some one's life."
David Inglis, Chairman of Guernsey's Age Concern said: Talking Benches is a simple but powerful concept that should remind us all how valuable human kindness and company really are. Much of the work that I do together with the team of volunteers at Age Concern Guernsey is about giving time to others - time to listen, encourage and support people around us. Talking Benches will benefit all ages including older adults and I want to thank Sarah, Colette and Aileen for bringing this idea into our community from such a poignant experience."
Jim Coupe, Managing Director at Skipton International, who kindly funded the latest bench through its Community Fund, said:
"I welcome this initiative, which is just one small part of the importance of talking to one another and of the value of good communication. I hope it will bring comfort and companionship to many people who feel isolated.
"Skipton International is passionate about being connected with our customers and the relationships we have are strengthened by us talking to them – as well as listening. This is a great opportunity to support the community and highlight the matters of loneliness and the importance of talking to each other throughout the year."
Our media centre
If you are a journalist requiring more information about Skipton International please contact Julie Todd, PR Manager. Email your queries to Julie.Todd@skiptoninternational.com or call +44 (0) 1481 734002
Contact us