28th Jan 2019
Skipton Smith Street Dash for Charity is a Success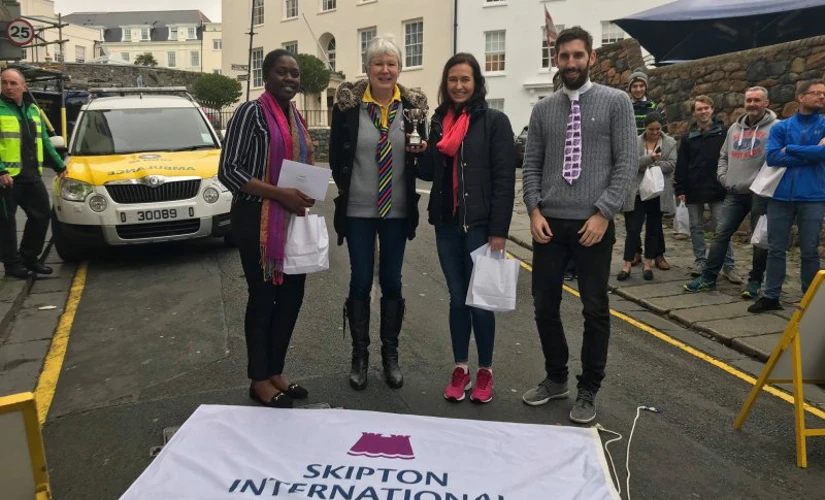 Last Friday saw 12 teams make a three-legged dash up Smith Street as part of a special event to celebrate Loud Tie Day.  The first Skipton Smith Street Dash was held in aid of Bowel Cancer Guernsey to help increase awareness of bowel cancer in Guernsey and raise funds.
For this year's Loud Tie Day, Bowel Cancer Guernsey wanted to increase corporate participation, targeting people who have sedentary jobs.
The race attracted teams from Ravenscroft, Skipton International, IAG, Equiom and Louvre Group. Each heat saw two teams make their way up the hill, legs bound with a loud tie, in an effort to get the fastest time.
The race got off to a fast start with Aaron and Max, one of the Skipton teams, sprinting off the start line and setting the pace to beat of 17.63 seconds. This time that was left unbeaten for the following five races, until the final heat, which saw a pair from IAG, aptly named Golden Glory, charge up the hill in 16.73 seconds. However, the organisers decided that a final race was necessary following a questionable tie placement in the IAG team.
Following a break, the two teams lined up at the start line ready to battle it out for the trophy. Both teams worked in unison, timing their steps well and while they started fast, it was IAG's Golden Glory team, with Gloria and Magda who crossed the finish line first with the fastest time of the day, 15.35 seconds.
The winning team took home the coveted Skipton Smith Street Dash trophy and a voucher kindly donated by Kings Gym for a week's membership.
Speaking of the event, Anne Brouard, Chairperson of Bowel Cancer Guernsey, said: 'We want to say a massive thank you to Skipton International for sponsoring this event, without whom this race wouldn't have been possible.
'We hold Loud Tie Day every year to raise awareness of bowel cancer in Guernsey and of the charity. It has been fantastic to see so many people come and take part in this event, which we hope will now become an annual race.'
Aaron Walden, Commercial Manager at Skipton International, commented: 'It was great for the Skipton Community Fund to be involved in bringing a new event to life for a worthy charity. We had a great turnout and hope to see even more teams next year.
'There was definitely competitive energy in the air, but it was great fun, and everyone seemed to really enjoy themselves. It certainly attracted a crowd, which will have boosted awareness for Bowel Cancer Guernsey.'
Events such as these are vital in raising awareness of not only the charity but also of bowel cancer. The charity is keen to stress the importance of islanders knowing the bowel cancer symptoms and going to their GP should they have any worries.
For more information about bowel cancer signs and symptoms, Bowel Cancer Guernsey and their future events head to their website, www.bowelcancerguernsey.org or their Facebook or Twitter pages.
Our media centre
If you are a journalist requiring more information about Skipton International please contact Julie Todd, PR Manager. Email your queries to Julie.Todd@skiptoninternational.com or call +44 (0) 1481 734002
Contact us