4th Aug 2022
Skipton Supports Community Bench Project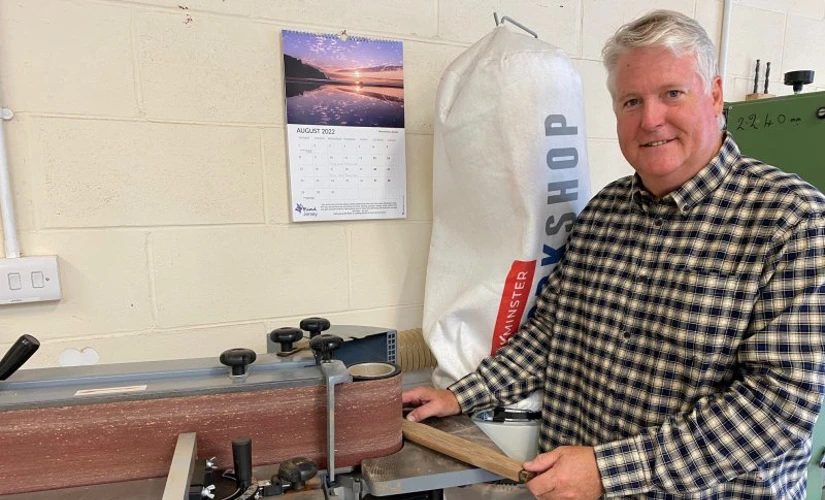 A Jersey project where islanders with disabilities or long-term health conditions refurbish the island's public benches has been able to buy an industrial sander to help with its work, due to financial support from the Skipton Community Fund.
The Skipton Community Fund, a scheme which supports good causes in the Channel Island community, recently awarded funding to Acorn Enterprises to support this project within its Training & Development provision.
Acorn, a social enterprise helping those with disabilities access employment opportunities through experience and training, successfully applied to the fund for the sanding machine to help with their ongoing bench project.
This project provides work and training opportunities for 15 people who work to refurbish public benches around the island.
Commenting on the funding and the impact it will have on the project, Acorn General Manager Steve Pearce said: "We are grateful to the Skipton Community Fund for this donation. As part of the Acorn Training & Development Service (ATD), we have a programme of refurbishing the island's public benches, many of which have been installed in memory of a loved one. In 2021, Acorn refurbished 211 benches around the island. We have a rolling programme of collecting benches, and repainting, re-varnishing, and repairing them, before returning them to their spot.
"Sanding the benches takes a lot of 'elbow grease' and we needed an industrial size sander so it could be used by more people. The equipment has adjustable heights to suit all and an end table for convenience for curved parts."
As well as contributing something to the local community, projects such as this aim to provide Acorn's clients with routine and purpose as well as the opportunity to meet new people and discover a talent or interest they never knew they had.
In the latest tranche of funding, Headway and the McGugan Family Trust were also beneficiaries of the Skipton Community Fund.
Lorraine McLean, Mortgage Sales Manager at Skipton's Jersey Mortgage Centre said: "At Skipton, we love hearing about all the impactful and positive initiatives that are taking place in the Jersey community. Acorn's bench project is a perfect example of this. It's a fantastic scheme which makes special spots around the island look their best whilst nurturing the skills and talents of their clients and we're so proud to be able to support them.
"We're delighted that so many local charities and individuals look to our Community Fund as a valued resource to get their projects off the ground and we look forward to supporting more good causes throughout the year."