6th Nov 2020
Corporates recognised at Skipton Swimarathon awards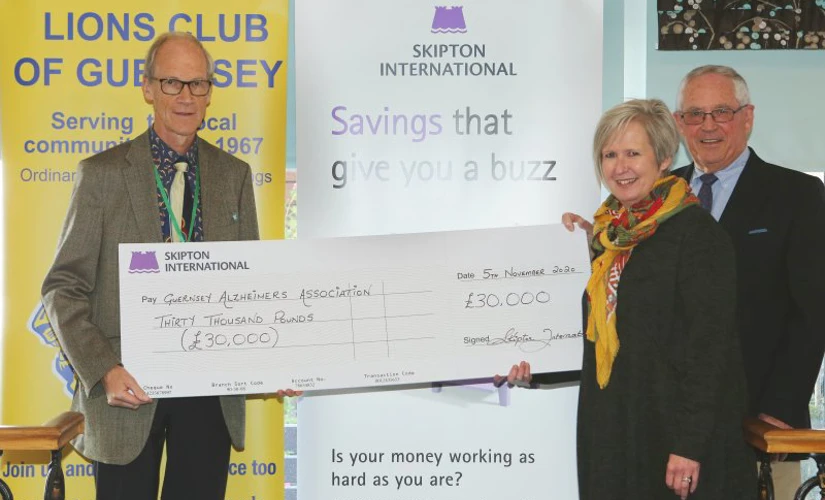 20 local businesses were handed awards by the Skipton Swimarathon organising committee at the Corporate Awards event yesterday (5th November) which celebrated the top corporate fundraisers. These firms each played a large role in helping the event raise over £60,000 for various local charities including the main beneficiary, the Guernsey Alzheimer's Association.
PraxisIFM and the Guernsey Sports Association for the Disabled collected the top Gold Awards along with event sponsor Skipton International, each raising more than £1,500. KPMG, Ravenscroft, GVS, Outreach Stars and the Guernsey Disability Swimming Club were each awarded a Silver Award for raising an excess of £1,000. To date the event has received over £62k of donation, with organisers hopeful that this will hit the £65k mark.
Nick Guillemette, Chairman of the Skipton Swimarathon Committee, said: "The number of businesses getting involved with the Corporate Awards has continued to rise since we launched the initiative three years ago and I think their impact is clear to see given that we are now celebrating another record-breaking year. The Swimarathon ticks so many boxes for businesses to get involved with, it can play a part in their charitable and CSR efforts, it provides a fantastic team building event and the fun had by all is bound to boost morale!
"We would love to see even more firms making the Skipton Swimarathon part of their regular calendar fixtures, committing to helping out a worthwhile cause that will benefit the whole community and island."
PraxisIFM entered eight teams into the Skipton Swimarathon, collecting a total of over £3,900, the largest raised by any corporate firm. PraxisIFM Head of Group Marketing and Business Development, Ray Tully, said: "We are absolutely honoured to have been recognised by the Skipton Swimarathon organising committee for our fundraising efforts. The number of swimmers who took part for us and their brilliant fundraising acts as a great reflection of what a loved and valued community event it is. We have participated in the Swimarathon for many years however, given the impact of the pandemic on charities, showing our support was extra important to us this time around."
12 businesses were awarded a Bronze Award for raising over £500 with all recipients able to display their Award at their place of work as a symbol of their valiant fundraising efforts.
Guernsey Alzheimer's Association were present to collect their cheque for £30,000 from fundraising efforts, a sum which will go a long way to making a difference to the lives of families and carers of those who suffer from a form of dementia.
Our media centre
If you are a journalist requiring more information about Skipton International please contact Julie Todd, PR Manager. Email your queries to Julie.Todd@skiptoninternational.com or call +44 (0) 1481 734002
Contact us