20th Mar 2019
Skipton School Mural Project Workshops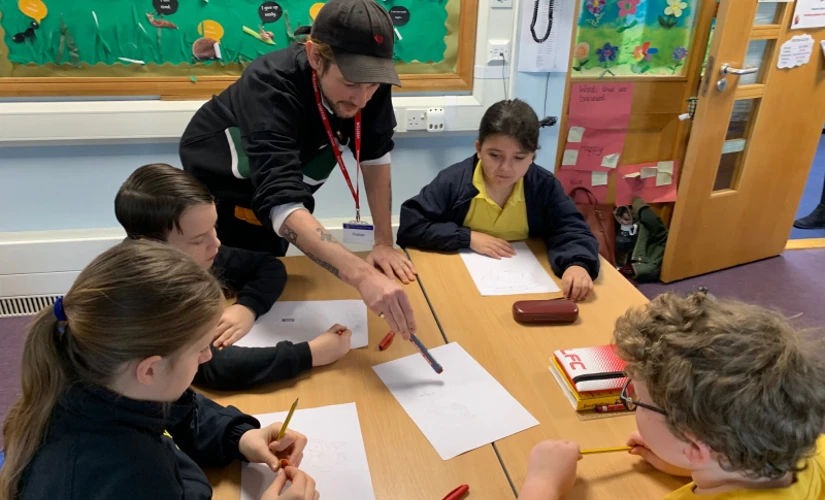 15 different schools across Jersey are getting creative as they welcome professional artists into the classroom through the Skipton School Mural Project workshops.
The project will see murals created across Jersey schools in time for the summer that are inspired by the students and school community.
ArtHouse Jersey, which is coordinating the project, selected the 15 schools and artists that are participating and partnered them up with the aim of creating works of art that are painted directly onto walls. The charity's aim is to encourage Jersey schoolchildren to embrace their creative side and develop their artistic skills whilst providing a fun opportunity for students to work together and a lasting shared focal point for the whole school community.
Schools and their selected artists are now working together to run workshops for the students where the art created will inspire the artist to design and create a mural for their particular school. The workshops will run from March through to June with over 20 workshops taking place and a total of 15 murals being created by the end of the summer term.  
It is the hope of ArtHouse Jersey and the project's sponsors, Skipton International, that up to one thousand Jersey schoolchildren will benefit directly from their participation in the project and that the work created will have a lasting impact on them, as well as on their peers, parents and the wider school community.
Tom Dingle, Director of ArtHouse Jersey said: "This project is all about giving children the chance to express, develop and showcase their creativity by working alongside professional artists to create a mural which celebrates their school community.
It is wonderful to see children from as young as five-years old right up to young adults get the chance to engage with artists who can help them develop their skills and passion for the arts. We have commissioned 13 talented local artists to participate in the project and invited two international artists, Matt Dufour and Mark Clure, to join through a partnership between ArtHouse Jersey and Wood Street Walls - a UK based visual arts company. Matt and Mark will be sharing their knowledge, expertise and passion with Grainville and Le Rocquier students. We can't wait to see the results of local and international professional artists passing down their expertise to our island's young people."
Aaron Walden, Commercial Manager at Skipton International, sponsors of the project said: "Skipton are celebrating their 10th anniversary in the Channel Islands this year, so we wanted to partner with Arthouse Jersey on a project that would be both impactful and leave a lasting impression on the Island. Art is a fantastic way to achieve both these goals and this project has the potential to inspire the next Jersey Picasso to pick up a brush! We are hugely proud of the Island and our place within its community and so are very excited that we have been afforded this opportunity to touch so many people through the joy that art brings."
In addition to supporting the Skipton School Mural Project the Skipton Community Fund also provides support to smaller charitable projects across the Channel Islands.
Pictured: artist Glen Fox hosting a workshop at Plat Douet school
Our media centre
If you are a journalist requiring more information about Skipton International please contact Julie Todd, PR Manager. Email your queries to Julie.Todd@skiptoninternational.com or call +44 (0) 1481 734002
Contact us