19th Apr 2010
2010 Swimarathon Is Confirmed with New Sponsor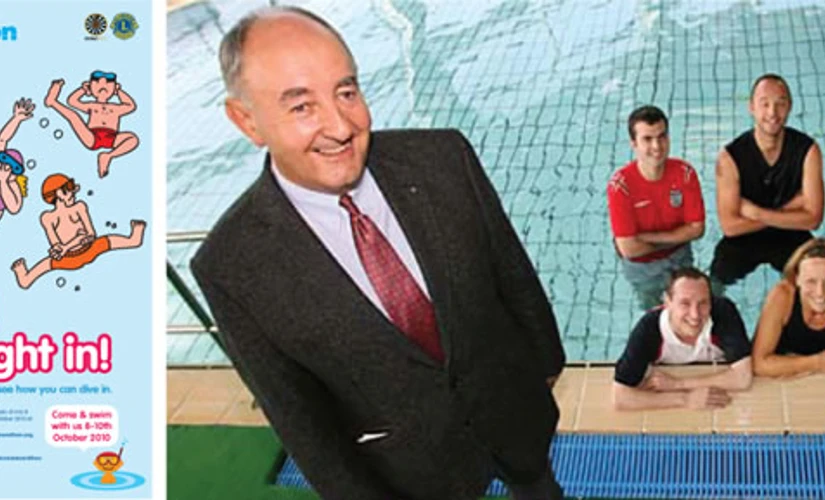 The Swimarathon Committee are delighted to announce that, Skipton International Limited, a leading provider of investments and mortgages to Guernsey residents, has been confirmed as the new lead sponsor for this year's Guernsey's Swimarathon. The Swimarathon is organised by Lions Club of Guernsey and Guernsey Round Table and is set to take place on 8-10 October this year at the Beau Sejour Leisure Centre. Following the announcement of the sponsorship agreement, the event will be renamed The Skipton Swimarathon with a new logo to reflect the new branding.
The Swimarathon has been a regular annual event since 1977, raising £1.1 million to date for worthy causes and charities on the island. In 2009, 1241 swimmers raised £36,000 for local charities, and it is hoped that this year's three day event can exceed the 2009 fund raising total.
Jim Coupe, Commercial Director at Skipton International commented on the new sponsorship: "Skipton International has always prided itself on its involvement in supporting the local community. Now our sponsorship of the Swimarathon will increase that activity considerably. This event is established in the annual calendar, has impressive organisation, and ultimately benefits worthy causes on Guernsey. We are proud to be associated with this initiative, and look forward to working with our new partners, to ensure its success."
This year's event will include Helen Bailey nee Watts, Commonwealth Games and Island Games medal winning swimmer. In addition and a first for Guernsey, the event will be tied in with Change4Life, a UK initiative that includes advice on leading a healthier lifestyle, not only through increased participation in sport, but also diet and general healthier living.
The event is open to adults and children alike.
Jeff Kitts, Chairman of the Swimarathon Organising Committee said:" We are delighted to be working with our new sponsors Skipton International, and look forward to building on the success of this event. Our aim is to exceed our targets, year-on-year, so we can continue to benefit the island's worthy causes. We also welcome this year's broader message, which focuses on diet and lifestyle, together with the health benefits of swimming.
Again this year, the Swimarathon Committee will be looking for a major local good cause to be the lead beneficiary of the sponsorship raised by our swimmers. This is in addition to the range of causes assisted through the funds raised for the Lions Club and Round Table. Anyone representing a major local good cause or charity is encouraged to contact Jeff Kitts.
Skipton International was created following the amalgamation of Skipton Guernsey and Scarborough Channel Islands in 2009. This year will mark Skipton International's 15th on Guernsey. The main office is located in Fairbairn House, Rohais, where its 30 staff are based
About the Swimarathon
The Lions Club of Guernsey, Guernsey Round Table and Variety Club of Guernsey formed the first Swimarathon Organising Committee under the chairmanship of Jurat Harry Bisson in 1977. The proceeds from the event were to be shared equally by the clubs and could only be spent locally.
At the first Swimarathon 186 teams swam over a period of 31 one-hour sessions. This proved to be a very successful event - both socially and financially. It was started by the Bailiff Sir John Loveridge at 5pm on the Friday and finished at 10pm on the Sunday. Just over 1,000 people took part and the magnificent sum of £19,900 was raised.
Over succeeding years Guernsey Swimarathon has gone from strength to strength and become the Island's greatest community fund raising event. Unlike many similar fundraisers, fun has been the essential quality upon which its success has prospered. In that way over 50,000 swimmers of all ages have raised more than £1,000,000 for local needs during 33 enjoyable years.
Many Swimarathon traditions have been established including the challenge of swimming for trophies. Children swim on a distance basis and adults on money raised. Trophy categories include Banks, Hotels, Pubs, Garages, Accountants, Churches, Schools and Clubs, etc. Non-swimmers have participated in rubber dinghies, sub-aqua clubs without surfacing, keep fit clubs without swimming and the event even had its own TV station for a few years!
Guernsey Variety Club faded some years back and Round Table and Lions Club are now the beneficiaries. Quite often the two clubs agree to pool Swimarathon resources towards a common goal, for example: Help the Aged. ; Guernsey Society for cancer relief - Bulstrode House; a number of Youth Clubs; Maison St. Pierre; Grow Limited; W.R.V.S; equipment for handicapped swimmers. St. John's Ambulance and Rescue; and last year The Guernsey Cheshire Home.
Although Swimarathon was given the use of the Beau Sejour pool free of charge in its early years, later, when charges were introduced the Organising Committee was able to offset costs due to the generosity of local sponsors. We are delighted to announce that for this year Skipton International is the sponsor.
About Skipton International in the Community
Skipton International Limited was created at the end of September last year, following the amalgamation of Skipton Guernsey and Scarborough Channel Islands. However the bank's track record as a major donor towards Island activities goes back much further, as Skipton Guernsey began to develop its strong reputation for community activity when the bank became the lead sponsor at the launch of Floral Guernsey in 1996. Since then, donations totalling many thousands of pounds have been made annually to support and develop the festival across the Bailiwick of Guernsey. The Floral Festival weeks are now highly regarded events in the local gardening calendar and attract many visitors to the islands. In 2009 the bank expanded it support of Floral Guernsey to include sponsorship of the Community Competition which selects a Parish each year to represent Guernsey in the annual Britain in Bloom competition.
Skipton International is also a regular contributor to other local events encompassing sport, the arts and local good causes. Recent support has included Liberation Day celebrations, the Lady Taverners, the Guernsey Football Association and the Guernsey Mini Soccer Festival plus the Skipton Walk at Sausmarez Park.
April 2010 marked another big step forward for the bank with the announcement that it is to take over as lead sponsor of the famous Guernsey Swimarathon, which in future will be known as the Skipton Swimarathon. The target this year is to raise £50,000.