16th Jan 2023
"Purple Monday" returns with an important message for young islanders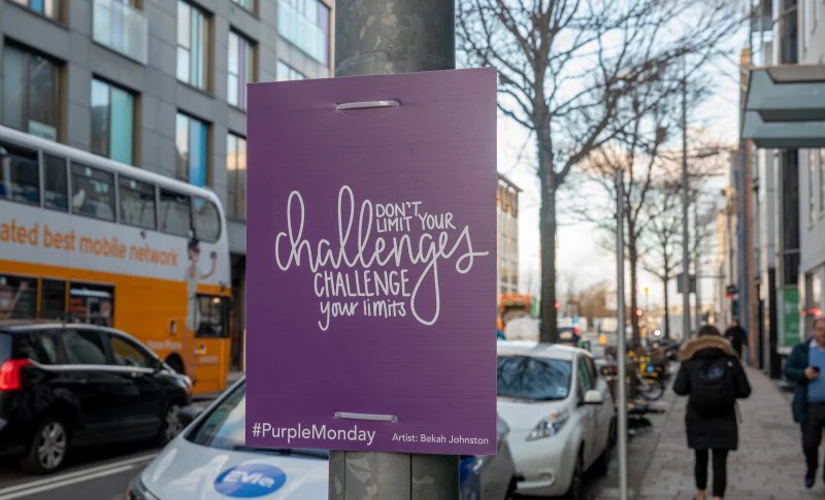 Skipton International has brought back a renewed "Purple Monday" campaign targeting those under 25 that may be challenged with their mental health; the campaign uses video content to share the important messages to young islanders that they are not alone, encouraging them to open-up and get talking about their mental health.

The campaign "Purple Monday" derives from "Blue Monday" and is renamed to link to the iconic Skipton International brand. "Blue Monday" is the date that is supposedly the most depressing day of the year. It falls on the third Monday of January, when the weather is likely to be dark and grey, debts are often collected, post-Christmas blues have set in, and New Year's resolutions may have already failed.

For Purple Monday, which this year falls on Monday 16 January, Skipton spoke with the Youth Commission for Guernsey and Alderney and Guernsey Mind to find out what the current mental health concerns for those under 25s are. It was clear from both charities that social pressures from peers and social media platforms cause a lot of anxiety and stress among young people on the island.  NHS data (Taken from a study focused on the mental health of children and young people in England, November 2022) highlighted a significant increase in disorders – with one in six young people aged 7-16 years to have been identified as having a probable mental health disorder in 2022, compared to one in 10 in 2017, a trend likely to be mirrored locally.
The short, animated video will be shared with secondary schools, local community groups and on social media to reach young people on "Purple Monday" and throughout January. The video includes tips from Guernsey Mind to help islanders cope, reminding them that they are not alone, and signposting them to where they can find further support.
Jim Coupe, Skipton's Managing Director, said: "At Skipton, we are passionate about supporting our community with their mental and physical wellbeing and looking after our young people is so important.  After our previous support with Talking Benches Guernsey and hearing from them about the importance of people talking to each other to make life better, we wanted to share this important message further and it felt fitting that we use our Purple Monday campaign to do this – using an engaging format we know appeals to this younger age group.
'We spoke with Guernsey Mind and the Youth Commission about current concerns and although there were several worries, social pressures stood out as a common recurrence. Our message to all islanders, especially to those under 25 is, if you are struggling with your mental health, you are not alone and it's important to talk to someone. If you feel there is no one suitable around you, there are fantastic charities available on our island that are ready to help.'

The Youth Commission for Guernsey and Alderney has recently launched its Educational Mental Health and Wellbeing team that works directly with schools to offer low-intensity Cognitive Behaviour Therapy to young people with mild to moderate anxiety and low mood concerns. Referrals can be made directly via school, but people can also get in contact with the Youth Commission for further advice from the team for mental health support.  

#PurpleMonday #HereToTalk
Purple Monday – Skipton International video - https://youtu.be/DxEUKZNxGhU