19th Oct 2017
Success celebrated for Skipton Swimarathon Swimmers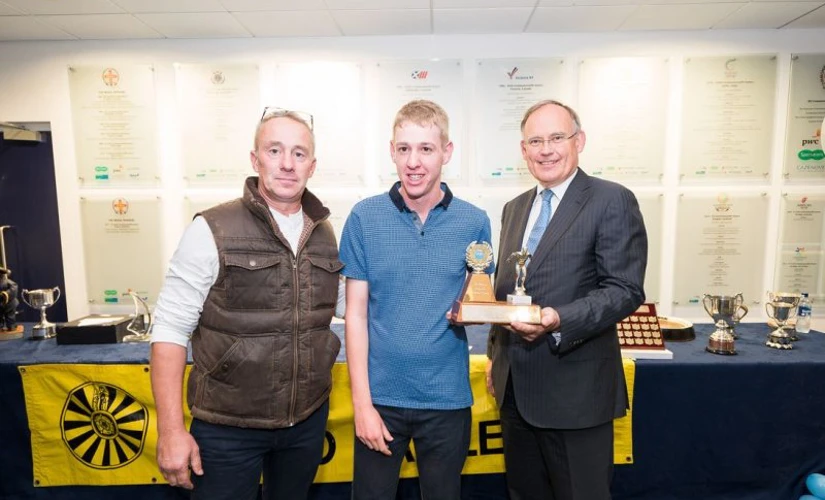 Last night the 41st Skipton Swimarathon presentation evening at Beau Sejour celebrated the tremendous support Islanders showed for the charitable event.
28 trophies which honoured the swimming and fundraising efforts of individuals and teams involved, were handed out at the ceremony by the Bailiff of Guernsey, Sir Richard Collas. Awards for most funds raised in different business sectors was fiercely competitive, with corporate entrants being eligible for gold, silver and bronze awards depending on the amount of funds raised.
But it was the awards for special achievement that proved most challenging for the committee to decide, with so many deserving entrants to choose from.
Tom Lowe, a promising young disabled sportsman who not only swims but also takes part in volleyball, snooker and shot-put, collected the Cable & Wireless Guernsey Can Award for Special Endeavour and David Parsons was awarded the Guernsey Sports Association for the Disabled trophy for the Most Improved Swimmer.
GROW Limited became the first Gold Winner of the Skipton Swimarathon Corporate Awards, raising over £1,500. Skipton International and Collas Crill both received Silver and RBSI and Ipes achieved Bronze. Seven other companies were just under the Bronze threshold.
The schools turned out in force this year with 95% taking their pupils and teachers to the pools throughout the week. The Hambros Bank Trophy for Most Laps Swum by a school team went to the St Sampsons Brecqou House for an impressive 291 laps swum.
St Sampsons High also won the R G Falla Cup award for Most Funds Raised having collected £2,737 through sponsorship. The pupils of St Sampsons High earned one house point per lap swum and per pound raised so competition was rife this year for the school with more pupils diving into the pool than ever before.
A record breaking 2,000 plus swimmers took part in the event earlier this month, with their efforts set to raise at least £55,000 for local good causes. The event has been sponsored by Skipton International since 2010 and organised jointly by the Lions Club of Guernsey and Guernsey Round Table. Funds raised from the event will be split three ways, with £25,000 being donated to the main beneficiary this year, the Guille-Allès Library Children's Library Project, and the other half split between charitable projects chosen by the Lions Club of Guernsey and Guernsey Round Table.
Nick Guillemette, Chairman of the Skipton Swimarathon, said: "It was excellent to get to meet the teams again last night and congratulate them personally for their efforts. I have thoroughly enjoyed my first year as chairman of the Skipton Swimarathon and hope to see everyone who took part and more once again next year. Thank you to all swimmers and the wider community for your support the Skipton Swimarathon could not happen without you."
Since its launch the Swimarathon has generated over £1,430,000 for Bailiwick charities, making it the island's largest community fundraising event.
Aaron Walden, Commercial Manager, Skipton International, said: "Congratulations to everyone who took part in the Skipton Swimarathon this year. At Skipton we were delighted to see a record number of swimmers sign up for the event. We are keen to distribute funds, so if anyone still has sponsorship to collect, it would be greatly appreciated if this could be arranged and the money paid in as soon as possible."
Any outstanding sponsorship funds should be paid into the Skipton Swimarathon bank account.  Details below:
Bank Name: HSBC, St Peter Port
Account Name: Swimarathon
Account Number: 84125126
Sort Code: 40-22-25