19th Apr 2018
Le Murier Village project to benefit from Skipton Swimarathon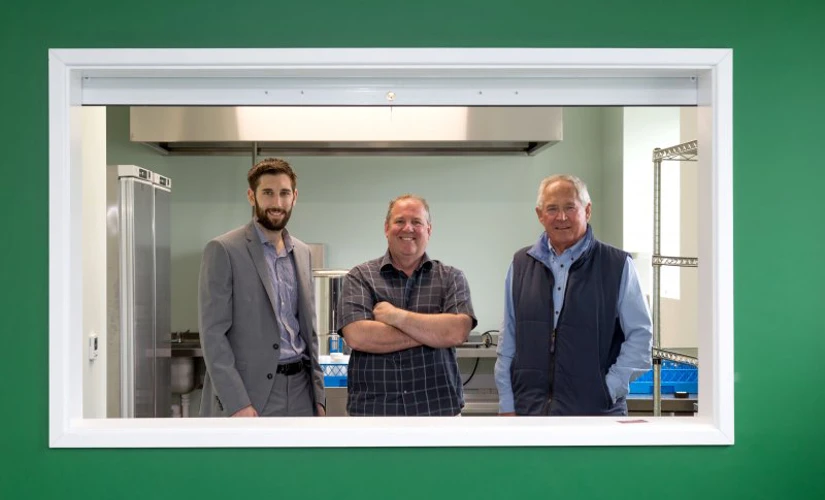 The Skipton Swimarathon Committee has selected Le Murier School's Village Project to be the main beneficiary of the 2018 event. Money raised from the Swimarathon will go towards the building of four log cabins, designed to help the students of the school learn independent living skills.
Le Murier School devised The Village after identifying that some of their students were not fully prepared for life after school. The Village is designed to simulate the real world, giving all students from the school and those in the community the opportunity to develop valuable life skills to prepare them for running their own home or to live within a supported living setting.
Nick Guillemette, Chairman of the Skipton Swimarathon, said: "We were overwhelmed by the number of worthy applications but felt that The Village project was one that the whole community would really get behind to support. With such an inspirational beneficiary, we hope that this year's Swimarathon will be bigger and better, raising a record amount for the chosen charities."
As part of The Village project, a hall has already been constructed which contains a classroom /workroom and a commercial kitchen, funded by the States' Education Department and Only Fools and Donkeys. When completed, The Village complex will provide overnight accommodation, various learning outside of the classroom opportunities, a pop-up shop and in time, a campsite for light weight camping that other schools and youth groups can use.
Gary Dovey, Offsite & Outdoor Education Co-ordinator for Le Murier School, said: "We are thrilled to have been selected as the main beneficiary for this year's Skipton Swimarathon. While we have been busy fundraising to complete The Village, the support of the Skipton Swimarathon will significantly bring us closer to our end goal. This will bring huge benefits to our students and the wider community, supporting the aspirations of those students who want to enter into independent or supported living as well as paid employment or vocational opportunities following their education."
This is the ninth year Skipton has supported the Swimarathon, which raised over £54,000 for local charities last year. Aaron Walden, Commercial Manager, Skipton International said: "We always look forward to the Swimarathon as it is a fun event that everyone can be involved with. The Village project is a very admirable cause and one close to our hearts at Skipton, since we are always looking at ways in which we can make housing accessible to one and all. It will be wonderful to once again watch the Island come together to support this common goal in October."
The Swimarathon is organised jointly by the Lions Club of Guernsey and Guernsey Round Table, and sponsored by Skipton International.