10th Nov 2020
Skipton Forget Me Knots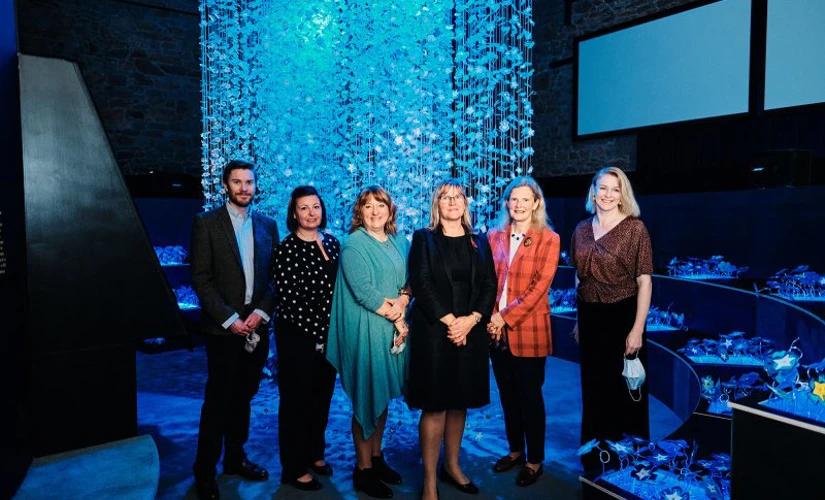 Amongst the chaos and uncertainty that 2020 has brought, Skipton International is extremely proud to be involved with the Skipton Forget Me Knots exhibition, which opened its doors at the Maritime Museum in Jersey this week. The large installation combined with interactive features was produced by ArtHouse Jersey and offers visitors a quiet space to reflect on the impact of the recent pandemic and how the island's children will have been affected.
Our Jersey Mortgage Sales Manager, Lorraine Mclean, and Mortgage Associate, Paul Hyde, were present at the launch of the exhibition which welcomed those artists and select school children who were involved, alongside Lady Dalton and the Children's Commissioner for Jersey, Deborah McMillan.
The installation which features thousands of paper flowers, and was the result of more than 3,400 school children's efforts, is a moving spectacle with the aim of reminding visitors of children's experiences and wellbeing at this challenging time.
Lorraine Mclean said: "Having viewed the results of the school workshops we have been very eager to see the final installation in full affect. You can't help but be moved by the enormous sense of community when you view this piece and how each child has played in integral role in producing something truly breathtaking."
Having just been named as a 2020 'Leader in Wellbeing', Skipton continues to assess its impact as a business on its staff and the public as it explore new ways in which it can have a positive affect on the communities in which it operates. Skipton has supported ArtHouse Jersey's projects for nine years, working in partnership with the organisation to convey thought-provoking themes and impactful world-class artwork.
Managing Director of Skipton International, Jim Coupe, said: "They say that out of adversity comes opportunity, but we believe that creativity can often act as a catalyst for opportunity. With so many businesses' and people under enormous stress at the moment, we must be mindful not to forget about the arts and what an important vehicle they are for delivering a powerful message. Well done to ArtHouse Jersey for producing a captivating and inspiring exhibition."
The free exhibition is now open for all to view subject to prior booking. Up to 20 visitors can enter the exhibition at any one time, with the lay out allowing for social distancing whilst providing people with the space and time for personal reflection.
Our media centre
If you are a journalist requiring more information about Skipton International please contact Julie Todd, PR Manager. Email your queries to Julie.Todd@skiptoninternational.com or call +44 (0) 1481 734002
Contact us