18th Mar 2020
Skipton signs up to Employer's Disability Charter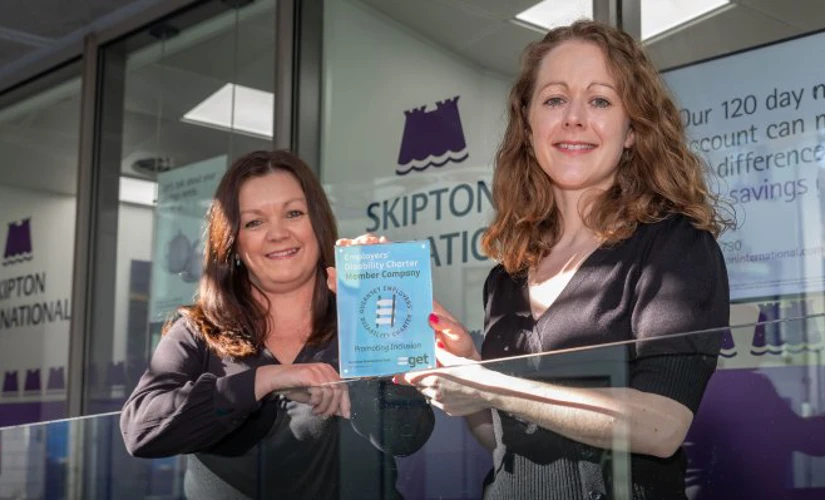 Skipton International has committed to Guernsey's Employer's Disability Charter, joining 44 other local firms who have signed up to the Charter. Skipton will be encouraging job applications from those with disabilities and taking a practical approach to making adjustments to allow a disabled person to perform their job within the bank.
The Charter was introduced in 2017 and aims to encourage more employers to make positive commitments around the recruitment, training and retention of those with disabilities as well as raising awareness.
Under the Charter Skipton will be promoting Disability Awareness Training to all of its staff members as part of an ongoing campaign to promote Skipton as a great place to work. During 2019 62 team members of the bank completed Vulnerable Customer Training, 34 carried out Mental Health Awareness Training, 26 undertook Autism Awareness Training and 12 with Dementia Awareness.
Skipton will be working with the Guernsey Employment Trust to offer those with disabilities the opportunity to attend mock interviews with the community-focused bank, helping them to gain valuable experience, feedback and increase their confidence levels.
Annette Wales, HR & Office Manager of Skipton International, said: "Skipton and its products should be accessible to one and all and the same ethos is adopted when it comes to employment. Our commitment to this Charter is part of larger exercise to continue to be a good corporate citizen and to inspire other businesses to make a meaningful contribution within the Bailiwick. We hope that being part of the Employer's Disability Charter will only help to reinforce our reputation as one of the best employers in the Island."
Chief Executive of the Guernsey Employment Trust, Nikki Ioannou-Droushiotis, said: "Guernsey Employment Trust are pleased to welcome Skipton International as its newest member of the Employers' Disability Charter. Skipton supports many local causes through the Skipton Community Fund.  However its actions with regards to the Charter are not about charity work, but about better supporting its staff with disabilities and health conditions. Skipton has made itself a desirable option for all islanders looking for work, an organisation focused on good practice."
Its commitment to the Charter is part of Skipton's wider goals under its Sustainability Report, whereby it will be looking to align its working practices with four of the United Nation's Sustainable Development Goals. Within the Sustainability Report Skipton will be looking to contribute 'Decent Work and Economic Growth', encouraging staff to undertake training and gain Certificate level qualifications.
Our media centre
If you are a journalist requiring more information about Skipton International please contact Julie Todd, PR Manager. Email your queries to Julie.Todd@skiptoninternational.com or call +44 (0) 1481 734002
Contact us