18th Jan 2021
Chase away the blues with Purple Monday
Uplifting signs have been installed around Guernsey by Skipton International to mark Blue Monday, dubbed the most depressing day of the year, and give a boost to the community at the start of 2021.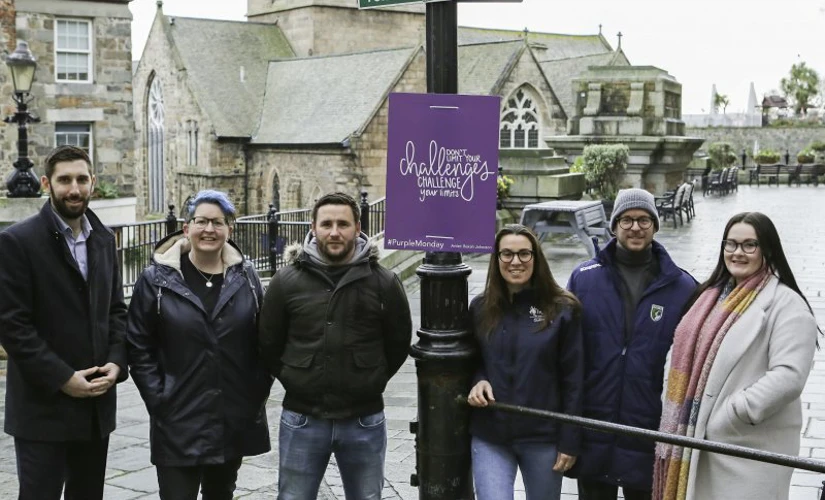 The bank is adding some warmth to the winter blues, and marking its brand refresh, by launching Purple Monday on Monday 18 January. Working with local artist Bekah Johnston and mental health campaigner Siân Jones, Skipton has installed a series of short inspirational quotes in high footfall areas which are visible for one day only.
Skipton has also donated to Guernsey Mind, recognising that mental health continues to be vital throughout the year and support is continually needed.
Aaron Walden, Commercial Manager of Skipton International, said: "The third Monday in January has been dubbed to be the most depressing day of the year so we wanted to brighten everyone's day while recognising the mental health struggles that many people face.
"Bekah is incredibly talented and we thank her for dedicating her time and resources to creating impactful artwork which also incorporates our Skipton colours. We'd also like to thank Siân for her support in this project and providing some uplifting quotes which intend to bring a smile to islanders as they get on with their daily lives.
"At Skipton, we regularly seek to add value back to the community and, while there is a lot of attention placed on mental health during Blue Monday, we'd also like to remind islanders of the valuable support that services such as Guernsey Mind provide as they work tirelessly throughout the year to improve our mental health."
Maddy Diligent, campaigns and events coordinator of Guernsey Mind, added: "We're very grateful to Skipton for their generosity to Guernsey Mind and their approach to mental health.
"We hope everyone got a boost when they saw the signs and if anyone is struggling with their mental health today or at any time, please seek help as you're most definitely not alone."
Our media centre
If you are a journalist requiring more information about Skipton International please contact Julie Todd, PR Manager. Email your queries to Julie.Todd@skiptoninternational.com or call +44 (0) 1481 734002
Contact us