21st Aug 2017
First ambassador who can't swim for 41st Skipton Swimarathon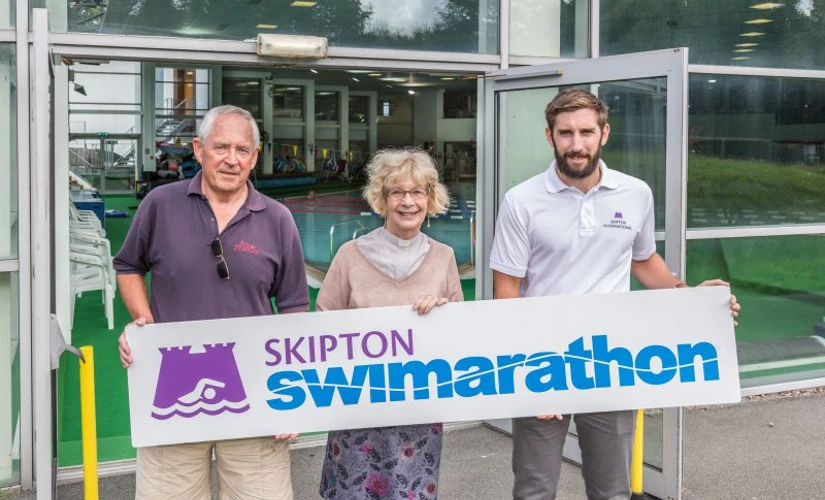 Skipton Swimarathon is delighted to announce Reverend Linda Le Vasseur, a renowned local author, as ambassador for the 41st Skipton Swimarathon.
Previous ambassadors of the Skipton Swimarathon include the Guernsey Commonwealth swimming team, an open-water swimmer, and a founding committee member.  Linda is the first ambassador who can't swim.
Despite not being able to swim, Rev. Linda was chosen because of her life time love of reading and writing. A former Guernsey Press journalist, the Hospital Chaplain hopes to be an advocate for both reading and encouraging people to enjoy swimming.
Rev. Linda said: "I grew up in London, where the only place to swim as a child was in a cold, dark pond. Sadly, I felt it was too late for me to learn as an adult when I moved to Guernsey 40 years ago. I probably couldn't swim even half a length of a pool. The Skipton Swimarathon is such a fantastic event because not only does it raise so much money for worth while local charities and projects, but it makes swimming fun."
The Guille-Allès Children's Library Project is the main beneficiary for the 41st Skipton Swimarathon. Project coordinators hope to create a library that inspires creativity and makes learning fun.
Nick Guillemette, Chairman of the Skipton Swimarathon, said: "Choosing someone who cannot swim may seem like an odd choice but this year we wanted our ambassador to promote both the Skipton Swimarathon and the Guille-Allès Children's Library Project. I am delighted Linda has joined as ambassador and look forward to raising the Skipton Swimarathon flag with her."
Rev. Linda added: "I look forward to going round the schools with Nick, the Skipton Swimarathon Chairman, to encourage students to sign up for the swimarathon and to share with them my love of reading. I think it is important students understand that their swimming efforts and sponsorship will enable them and future students to have a fun and engaging place to read."
Aaron Walden, Skipton International's Commercial Manager, said: "We're incredibly glad to have Reverend Linda championing the 41st Skipton Swimarathon. Linda's enthusiasm certainly makes up for her lack of swimming ability!"
The 2017 Skipton Swimarathon will take place from Wednesday 4 October to Sunday 8 October. It is organised jointly by the Lions Club of Guernsey and Guernsey Round Table, and is sponsored by Skipton International. Last year 1,778 swimmers took part in the event raising in excess of £50,000.
Pictured from left to right: Nick Guillemette, Reverend Linda Le Vasseur, Aaron Walden