24th Oct 2016
Three new A-Level students join Skipton International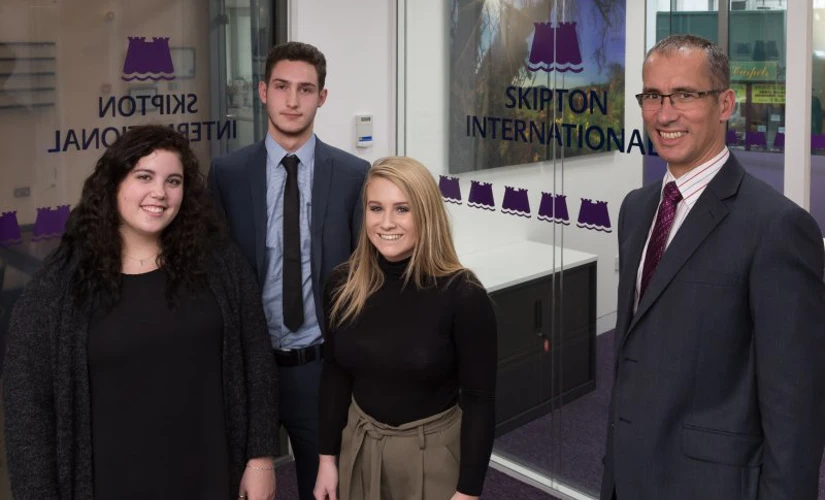 Skipton International welcomes three new starters to be trained to help meet growing demands for Skipton's mortgage and banking services in Guernsey.
Mikey Hancock joins the company as a Trainee Accountant, while Ellie Brush and Jess Bridle both join as Customer Advisors.
In the past three years, Skipton International's team has grown by 50% and the award-winning bank now employs over 40 people on the island.
The new team members all finished their A-Levels this summer at The Guernsey Grammar School and Sixth Form Centre, and are starting with Skipton International for their first full time job. 
Jim Coupe, Managing Director, Skipton International, said: "We're delighted to welcome Ellie, Jess and Mikey to the team. They are all very motivated young adults who are keen to embark on further training at Skipton International.
"We want to give our customers the best service possible so it's crucial we get the right team members. Employing determined A-Level leavers allows us to tailor their training and aid their professional development so they can excel in their roles and be on track for promotion."
Earlier this year Skipton International moved to new offices at The Bordage, as part of its on-going expansion plans.
Mikey said: "Skipton International gave me the opportunity to work in accountancy and it's difficult to say no to the Guernsey Business of the Year. I look forward to studying for my ACCA qualification and becoming a fully qualified accountant."
Skipton International is one of Guernsey's largest providers of new residential mortgages, and has a fast-growing expat mortgage business, providing buy-to-let mortgages for British expats who wish to invest in the UK.
Jess said: "Skipton International is a highly recommended and successful business. The role of Customer Advisor is an excellent starting job to learn more about the finance industry."
At the end of 2015 Skipton International reached £1.075 billion of deposits, making it equivalent to the 13th biggest building society in the UK.
Ellie said: "Being part of a dedicated and hard working team is an inspiring environment to work in. In my role I have the pleasure of communicating with the general public and I aim to offer the best customer service possible."