10th Oct 2016
40th Skipton Swimarathon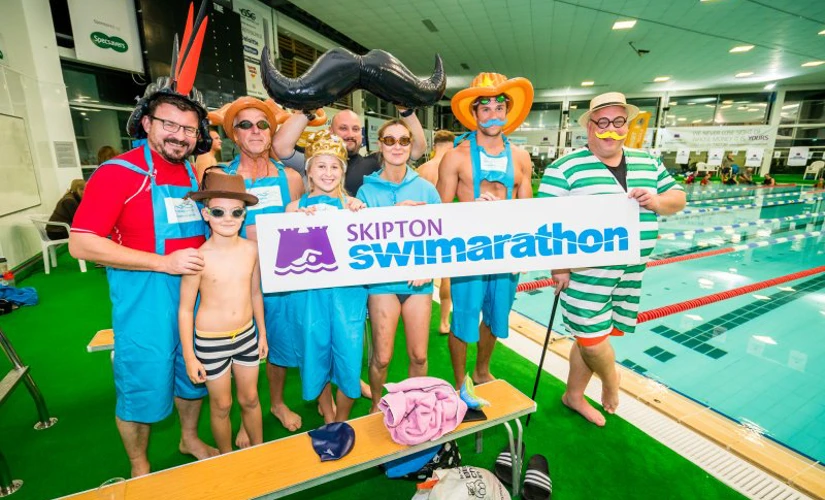 40 Charities to each receive £1,000 due to the success of the 40th Skipton Swimarathon Anniversary
The 40th Anniversary of the Skipton Swimarathon once again rallied the Guernsey community to raise money for charity. 1780 swimmers swam over 700km and their efforts are set to raise at least £55,000.
The great support received means that £1,000 will be given to each of the 40 local charities chosen this year as Skipton Swimarathon beneficiaries. The remainder of the money will be divided between the event organisers, the Lions Club of Guernsey and Guernsey Round Table who will distribute to more good causes. Since 1977 the Swimarathon has raised over £1,385,000 for local charities and is one of the largest annual fundraising events on the island.
For the first time the Skipton Swimarathon is supporting 40 different local charities. The decision to spread the sponsorship in this way was made to both reflect the community nature of the event and ensure that many smaller charities will receive some much needed and much deserved funding. 
The swimming action was not just at Beau Sejour. Throughout the week the Swimarathon At Large saw Les Beaucamps High School, The Grammar School, Elizabeth College, St Sampson's High School and Le Murier School all take the plunge in their own pools.
Steve Hogg, Chairman of the Skipton Swimarathon, said: "The 40th Anniversary has not only been a wonderful celebration but also a huge success. I would like to thank everyone who swam and to all those who supported and sponsored our swimmers.  Their great support has ensured that charities across the Bailiwick will benefit."
He added: "The event is such that anyone can take part and join in the fun and I look forward to the next 40 years of raising money for local charities."
Jim Coupe, Managing Director, Skipton International, said: "The Skipton Swimarathon has had a fantastic year for the 40th anniversary. We are proud to sponsor an event that brings together so many people. It not only raises money for charity but also promotes teamwork and healthy living. We thank everyone who supported the 40th Anniversary and hope they are excited to join us again next year."
A presentation evening will be held at Beau Sejour on Wednesday 19 October. The Skipton Swimarathon committee will present awards for a number of achievements during the event.
Any outstanding sponsorship funds should be paid into the Skipton Swimarathon bank account.  Details below:
Bank Name: HSBC, St Peter Port
Account Name: Swimarathon
Account Number: 84125126
Sort Code: 40-22-25
Alternatively, cash may be handed into Skipton International's office at Tudor House, The Bordage, St Peter Port.