19th Mar 2021
The Skipton Cup 2021 is announced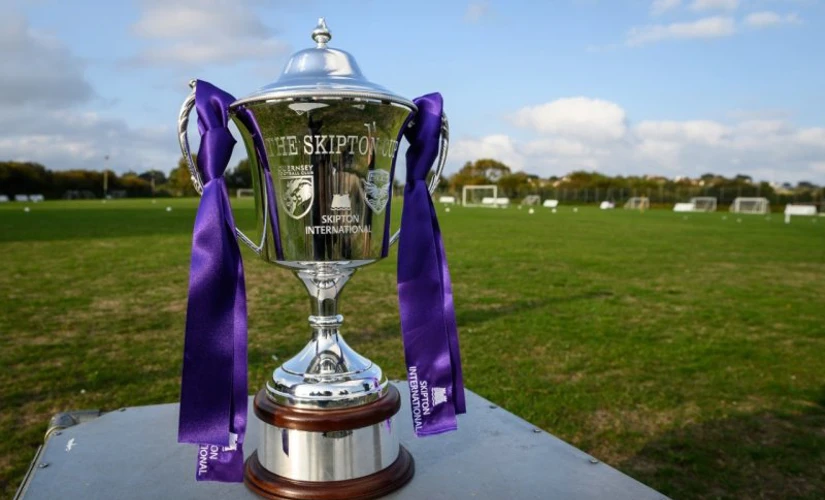 The bank-sponsored football tournament between FC Isle of Man and Guernsey FC, will take place on Saturday 17 July at The Bowl, Douglas, Isle of Man, with the deciding leg taking place in Guernsey on Saturday 31 July. Both matches will be at 6.30pm, with live music and entertainment, making for a real family occasion.
This follows last year's successful tournament, when the teams bonded so well that discussions were soon underway to facilitate an annual two-match event. The Green Lions currently hold the silverware and the Ravens are excited to challenge for the trophy this year. Both clubs are keen to take advantage of the unique relationship the two islands have formed. Skipton International has signed a three-year agreement to sponsor the matches.
Skipton International Managing Director, Jim Coupe, said:
"We understand the healing power of sport, and are hugely excited for this year's Skipton Cup tournament, after a tough year for everyone.
The matches between FC Isle of Man and Guernsey FC will provide sporting excellence for fans across both Crown Dependencies."
FC Isle of Man Commercial Manager, Ty Smith, is equally excited about the upcoming July matches:
"It is really exciting for the club to compete again against the Green Lions, this time over two legs and, with the Skipton Cup at stake, it promises to be an exciting couple of fixtures for both sets of fans.
"FC Isle of Man, Guernsey FC and Skipton International are all organisations which build strategically and plan for the future. The Skipton Cup will form an integral part of both clubs' pre-season preparations for the years to come and will not only provide both sets of supporters with the tantalising prospect of seeing their team lift some silverware, but will also mean that travelling fans get to enjoy the best of each island's tourism, whilst providing both the Isle of Man and Guernsey with economic benefits."
 GFC Director Nic Legg said:
"Guernsey FC were absolutely delighted to win the inaugural Skipton Cup last year, especially after the drama of a penalty shootout! This year we have the extra interest of the game being played over two legs. After a testing 12 months with very little to cheer about, the confirmation of the fixtures is really good news.
"We hope many of our fans will be able to join us in the Isle of Man and we look forward to welcoming The Ravens to Footes Lane. The squad can't wait to walk out at The Bowl, and, of course, we will be giving it our all to make sure we keep hold of the Skipton Cup on 31 July. 
Our media centre
If you are a journalist requiring more information about Skipton International please contact Julie Todd, PR Manager. Email your queries to Julie.Todd@skiptoninternational.com or call +44 (0) 1481 734002
Contact us