8th Oct 2019
Thousands splash the cash for charity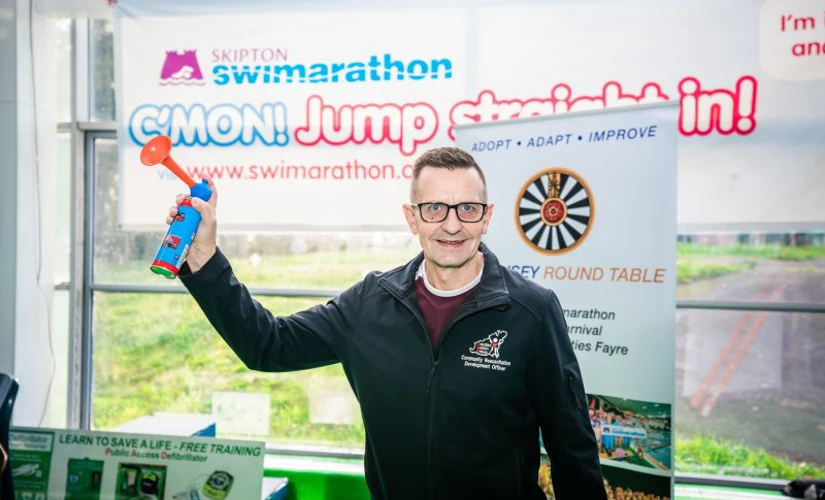 The Skipton Swimarathon came to a triumphant close on the weekend, raising a record breaking £56,427 for local charities – the highest sum since the community event started in 1976.
 Over 2,500 swimmers took to the pool at Beau Sejour Leisure Centre or as part of the 'At Large!' schools programme, helping the event smash its records for participation and monies raised. Organisers saw a huge increase in the number of students getting behind the event, with over 1250 youngsters participating throughout the five days of swimming.
The event was launched by the Bailiff of Guernsey, Sir Richard Collas, on the Wednesday evening at Beau Sejour, with the His Excellency the Lieutenant-Governor of Guernsey and Lady Corder supporting proceedings on the Friday morning.
Nick Guillemette, Chairman of the Skipton Swimarathon Committee, said: "We were blown away by people's generosity this year. Not only have we exceeded the amount raised from our 30th anniversary celebrations in 2006, but the addition of online donations through Giving.gg means that money continues to be collected following the event. We are hopeful that we may surpass the £60k mark and would ask anyone that has yet to donate to do so through this channel."
The Cardiac Action Group are this year's main beneficiary, who set up stand in Beau Sejour's reception throughout the event to raise awareness of their charity and to teach both participants and passers-by the vital life-saving techniques required should someone suffer a cardiac arrest. Further good causes will benefit from funds raised, as chosen by the Guernsey Round Table and the Lions Club of Guernsey.
Mike Froome, Community Resuscitation Development Officer at the Cardiac arrest Group, said: "Since we began our work, we have doubled access to defibrillators on the island and with the support of the Skipton Swimarathon we can now continue to increase this number and hopefully provide training to everyone on how to use this equipment to save lives."
The Skipton Swimarathon Committee are urging all swimmers to collect donations as soon as possible so that these can be paid away to the charities. Funds can be paid into the Swimarathon account at any HSBC branch, transferred electronically or delivered to the Federal Trust office or Skipton International's offices.
The efforts of those that took part will be recognized at a presentation evening taking place at Beau Sejour on 16th October from 6pm, where Managing Director of Skipton International Jim Coupe will be handing out awards.
Pictured: Mike Froome, Community Resuscitation Development Officer at the Cardiac arrest Group