13th Sep 2021
10 years of bringing the Island together through art
With the Skipton Big Ideas exhibition due to open in October of this year, Skipton International will be celebrating a decade in partnership with ArtHouse Jersey. The corporate collaboration has become one of Jersey's strongest features on the events calendar with awe-inspiring and head-turning projects capturing attention both on and off-island and encouraging a new generation of talented artists to emerge. The leading Channel Islands savings bank and mortgage provider reflects on its 10-year relationship, how this has enabled it to communicate with their customers and the public and the impact these projects have had on the community.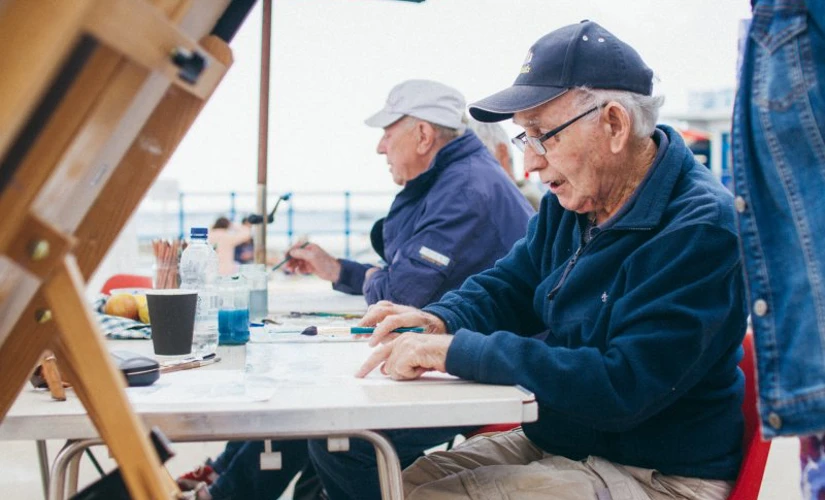 The history
Skipton Open Studios 
The series of artists open studios ran for five out of the now ten-year partnership, offering the public an insight into artists personal creative spaces and highlighting the talent available on the island. Perhaps the most memorable of these events was the 2012 shipping containers art installation in the Weighbridge Square. Numerous commercial shipping containers were converted by the artists into their own personal mini galleries, complete with a mural exterior. Delivering art directly into the heart of St Helier, the exhibition was viewed by hundreds of visitors and locals alike, its dramatic presence commanding attention and piquing interest. 
Skipton Paper Dialogues
In 2017 Arthouse Jersey explored the magic that can be achieved from a simple piece of paper, utilising the Japanese art form of paper cutting and bringing it to life in a modern way. The project welcomed touring artists Professor Xiaoguang Qiao and Karen Bit Vejle who ran workshops and masterclasses in psaligraphy, culminating in a community Paper Dragon sculpture from individual paper cuttings. The exhibition was such an overwhelming success that Jersey was invited to show work as part of the tour in Demark in 2019. ArtHouse Jersey commissioned local artists Emma Reid and Layla May Arthur to create their own 'paper dialogues' on Jersey as their childhood home as part of this showcase. 
Skipton Town Mural and School Mural Projects
St Helier was brought to life in the summer of 2018 when ArtHouse Jersey commissioned several artists to create street art murals around St Helier. The project looked to highlight certain areas of Jersey's town that needed reviving or further consideration over its future. The project raised the profile of street artists which resulted in more businesses using art murals around the island. The self-guided art trail around St Helier remains a tourist attraction for visitors with a map of the sites on the Visit Jersey website. 
The subsequent year ArtHouse Jersey chose to extend the project by creating murals at various local primary schools in conjunction with the students. Pupils contributed to the design of the final mural, working with local artists to explore subjects that were important to them and the community. 19 murals in total were created leaving a permanent legacy of the project at schools and encouraging children to get more involved with art in its various mediums. 
Skipton Forget me Knots 2020
The importance of art and creativity was never more apparent than when the island went into a lockdown during the Covid-19 pandemic. Circumstances like we've never experienced affecting people both mentally and physically and drove a desire to come together as a community to support one another. ArtHouse Jersey took this opportunity to highlight a voice that is often overlooked – that of our younger generations. The Skipton Forget-me-Knots project explored their emotional response to these strange times, finishing with an exhibition at the Maritime Museum that was breath-taking in its beauty and offered people a quiet meditative space to reflect on the impact of the previous months. 
Island art continues to push boundaries, pose questions, and provide something to engage the whole population of Jersey irrespective of age or heritage. The name Skipton International has now become synonymous with ground-breaking art along with a reputation as the community bank that truly cares from its active approach to corporate and social responsibility. Skipton is inviting the public to engage with ArtHouse Jersey's largest and most ambitious project ever to mark this milestone, as the Town Church opens its door to Skipton Big Ideas at the end of summer.
The quotes
Lorraine Mclean, Mortgage Sales Manager for Skipton International, said: "We've never been a firm that was interested in supporting a cause purely financially. If our name is associated with an event or project, it means we will be playing an active role in helping them achieve their objectives, realising that often the most valuable asset you can offer is time, people and resources."
Tom Dingle, Director, ArtHouse Jersey: "Skipton International is truly an exemplar of a company that not only lives up to its values but consistently goes above and beyond to serve the community. I think that our partnership demonstrates the value that can be gained through sustained focus, effort and resource and it has been a privilege to have witnessed how the projects and the sector has grown and evolved over the past ten years. This year's Skipton Big Ideas exhibition is a suitably ambitious marker of this anniversary and we look forward to continuing to deliver value to the community through this wonderful partnership in the years to come." 
Jim Coupe, Managing Director of Skipton International, said: "Skipton International's ethos of supporting the local communities in which it operates has served us well in this ten-year partnership to date. I am excited to see what the future holds for art in Jersey and how, with the help of ArtHouse Jersey, we can use it to shape our future and celebrate our island.
Our media centre
If you are a journalist requiring more information about Skipton International please contact Julie Todd, PR Manager. Email your queries to Julie.Todd@skiptoninternational.com or call +44 (0) 1481 734002
Contact us