18th Oct 2017
How vulnerable customers see the world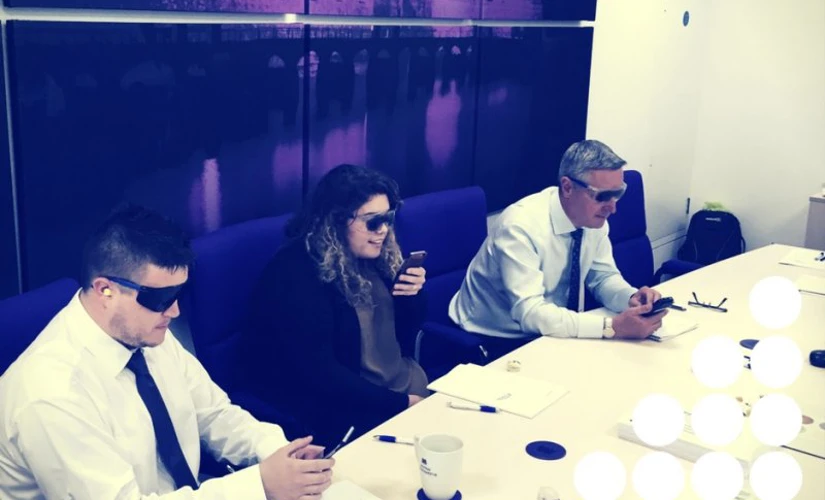 Dark glasses and earplugs are not usual office attire, however, when it comes to seeing things from a customer perspective, Skipton International is always prepared to go the extra mile.
As part of a recent training session, Skipton team members donned the accessories to help understand how older and vulnerable customers experience every day activities such as checking a mobile phone, navigating a building, or moving around furniture.
The bespoke course, hosted by the GTA University Centre, was designed by Caroline Hayden-Wright, an Occupational Therapist with over 30 years' experience providing better services for older people.
Wearing the equipment, which simulates hearing and visual impairment, makes team members more aware of the difficulties older and vulnerable customers face when visiting a bank or using services.
Ways to adjust services for older and vulnerable customers include:
making sure the pace at which information is shared is right for the customer;
sharing documents in larger print wherever possible;
making magnifying glasses available in meeting rooms;
introducing a specific signature text box to assist with signing legal documents in the correct space.
Josie Paint, Director of Operations, Skipton International, said: "Although team members already had empathy with customers, the training highlighted what vulnerable customers have to deal with on a day-to-day basis. They now ensure that information is provided in a clear, concise way and close by asking the customer if they understood all the information they received.
"Companies working with older customers, such as banks, insurance companies, trust companies and even some retail businesses would benefit by sending their employees on this course. It would also be beneficial for care home workers, hospital staff and GPs".
Strong customer service is a key element of Skipton's offering. Throughout 2016, Skipton International achieved a Feefo service rating of between 4.5 and 5.0 – the highest score possible. Earlier this year Skipton won Feefo's Gold Trusted Service award in recognition of its excellent standards of customer service.
Pictured: Skipton International colleagues