12th Oct 2020
Skipton Swimarathon smashes all records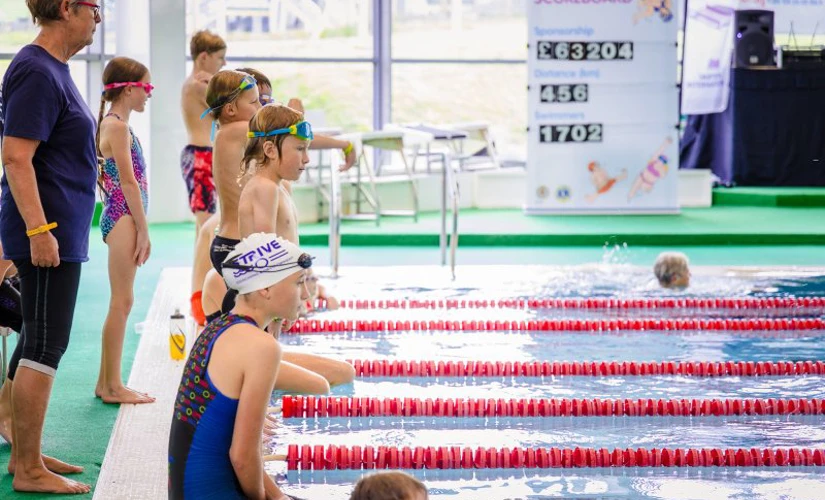 The 44th annual Skipton Swimarathon has smashed all of its previous records as more than 2,600 swimmers turned out for the sold-out event to raise money for local charities. Donations poured in throughout the competition with the total surpassing previous years with a sum of more than £65,000.
Swimmers including schools, corporate companies, family and friends swam a total distance of over 700km, the equivalent of crossing the Channel to Poole and back three times! The five-day event saw plenty of fun, belly flops and friendly rivalry take place all with appropriate safety measures in place thanks to the support and guidance of Dr Nicola Brink MBE and her team. 
The Swimarathon's previous record for funds raised was £60,000, with the final total for 2020 set to continue to rise as further donations are collected. Half of the fundraising total will go toward the Guernsey Alzheimer's Association as they look to support carers of those with dementia.
Nick Guillemette, Chairman of the Skipton Swimarathon Committee, said: "I am totally blown away by what a success this year has been. There is no doubt that this year's Swimarathon would not have been possible without the expertise, guidance and support from Dr. Brink MBE and her team. This pandemic has forced many local charities to cancel their fundraising events so we have been very fortunate to have been able to host this event and to raise much needed funds for our main beneficiary, the Guernsey Alzheimer's Association, and those charities chosen by our two participating clubs, The Guernsey Lions and Guernsey Round Table.
"I believe we have achieved a positive outcome out of what has been for many an extremely hard and challenging time. Our thanks go out to Guernsey public for their wonderful support and generosity, and of course our thanks go to Skipton International for their marvellous sponsorship of the Swimarathon."
Julie Thompson, Manager of the GAA, said: "We feel incredibly humbled by how the public have embraced our cause and dug deep to give back. Many lives will have been touched by someone with a form of dementia and the contribution from the Skipton Swimarathon will allow our charity to achieve so much more on the island, extending our reach and providing families with the care and support that they so sorely need."
Our media centre
If you are a journalist requiring more information about Skipton International please contact Julie Todd, PR Manager. Email your queries to Julie.Todd@skiptoninternational.com or call +44 (0) 1481 734002
Contact us