4th Nov 2021
Skipton Swimarathon celebrates achievements
The Skipton Swimarathon has recognised the hard work and fundraising efforts of the corporate and club teams which took part in the community swimming event.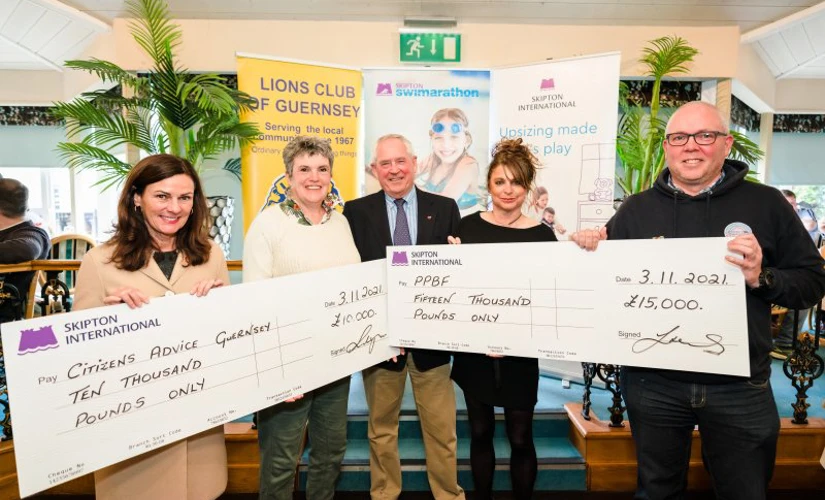 Platinum, gold, silver and bronze awards were given out for companies and clubs to display at their workplace or swimming venue, celebrating the part they played in raising over £80,000 for local charities this year.
This year's main recipients from the funds raised at the Swimarathon were the Priaulx Premature Baby Foundation and Citizens Advice Guernsey.
The Priaulx Premature Baby Foundation will be using the donation from the event to pay for the upkeep for one full year of one of their flats next to Southampton Hospital, which is at the disposal of Bailiwick families whose children are receiving treatment at the hospital.
Citizen's Advice Guernsey will use their donation towards the ongoing costs of their new IT system, including a brand-new telephony suite, to allow their volunteers to better serve the public of Guernsey.
Aaron Walden, Skipton's Commercial Manager, said: "The corporate award scheme inspires local companies to get involved with the fundraising event. The ethos of the event is all about community and doing your part and it is the one event in Guernsey's calendar that can involve the whole island. We are thrilled to have honoured all these recipients today and thank them wholeheartedly for their efforts."
The collection of donations from the 2021 Skipton Swimarathon are still pouring in, with organisers delighted to have already exceeded the monies raised last year.
Corporate Awards Winners 2021
Platinum: Grow Limited, Karl Enticott, Melrose School, NLG, Outreach Stars, RG Falla, Richard Coomer, Skipton International and St Sampsons High School. 
Gold: 5th Guernsey Beavers, Beau Sejour Swim School, Guernsey Sports Association for disabled and Notre Dame School.
Silver: Aon, Blanchelande College, Citizen's Advice Guernsey, Chairman's Charlies, Elizabeth College Junior School, Foresters Arms, Geomarine, GVS, Specsavers and St Martins Church.
Bronze: Alternative Solutions, Cobo Sharks, Elizabeth College, Equiom Ducks, Grammar School, Guernsey Disability Swimming, Guernsey Sea Adventurers, Hautes Capelles, LMDC, LMDC Primary, Le Murier, Otterborne Equestrian Centre, Preemie Strong, PPBF and St Martins School.
Our media centre
If you are a journalist requiring more information about Skipton International please contact Julie Todd, PR Manager. Email your queries to Julie.Todd@skiptoninternational.com or call +44 (0) 1481 734002
Contact us