15th Sep 2023
Just a few weeks to go before this year's Skipton Swimarathon
With just a few weeks to go before the Skipton Swimarathon kicks off in Guernsey, organisers say they are hopeful of a record-breaking year.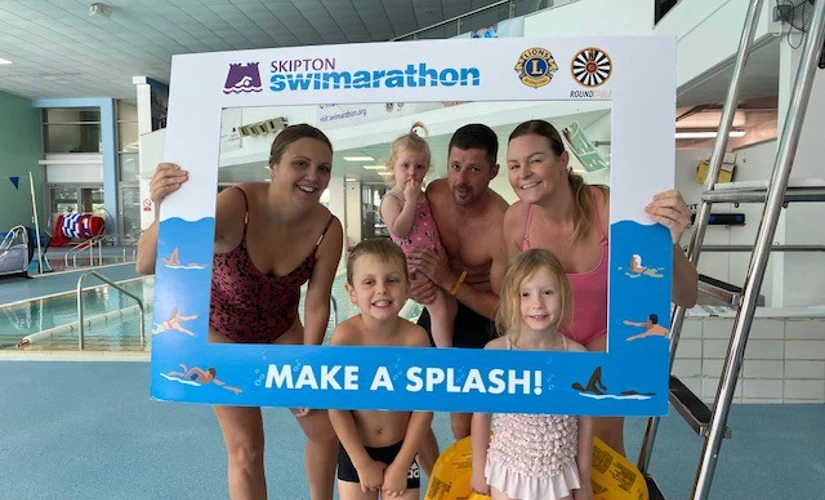 The much-loved four-day event, sponsored by Skipton, is taking place from Wednesday 4th October. In addition to it being a public event, local schools participate at their own pools, with it being very much a part of the regular curriculum, year after year.
We spoke with two teams who have signed up for this year, to find out what they enjoy about the Skipton Swimarathon.
Renee Cotterill works at Apax in St Peter Port. She said:
"I entered for the first-time last year, along with my husband and young children, having only decided to take the plunge one week before the event! Our team "Cotterill Unicorn" had such fun – the party atmosphere with music playing added to the laughter – and it was such a good example to set for the children, raising money for charity but having fun at the same time."
"This year I have a few lovely colleagues joining in for the first time – we are "Team Apax" – and I really hope that they (and their children) will find it inspirational too. Thank you to Apax, who kindly match whatever we raise in sponsorship by 2:1 – if we raise £500, that will then mean £1500 for the charities!"
Candice Vermeulen from "The Vermeulen Family and Friends" team said:
"As a family we all love swimming from some being dippers to others competing on a regular basis in the pool.  From 2 to 62 our team has a broad range of ages and abilities.  The older members of our team all remember taking part in the Swimarathon when we were younger and decided we wanted to take part again."  
"The event is unique as it has the best atmosphere - fun camaraderie whilst raising money for great local causes.  As a group we don't often get to join together in the pool, so this is the perfect opportunity to do so.  We love the event as everyone can do it, whether its children using rubber rings to complete their length or serious swimmers, it is so inclusive. "
This year's Skipton Swimarathon is raising funds for local mental health charities: the Youth Commission of Guernsey and Alderney, and Guernsey Mind. It is free to enter a team and swimmers can be of any age and any level – you simply book a lane online for a one-hour slot and swim/paddle in relay. All teams need to collect their sponsorship money in advance, so it can be handed in to the organisers upon arrival for the swim.
To book a lane, visit www.swimarathon.org