27th Aug 2020
Skipton announces partnership with Green Lions and Ravens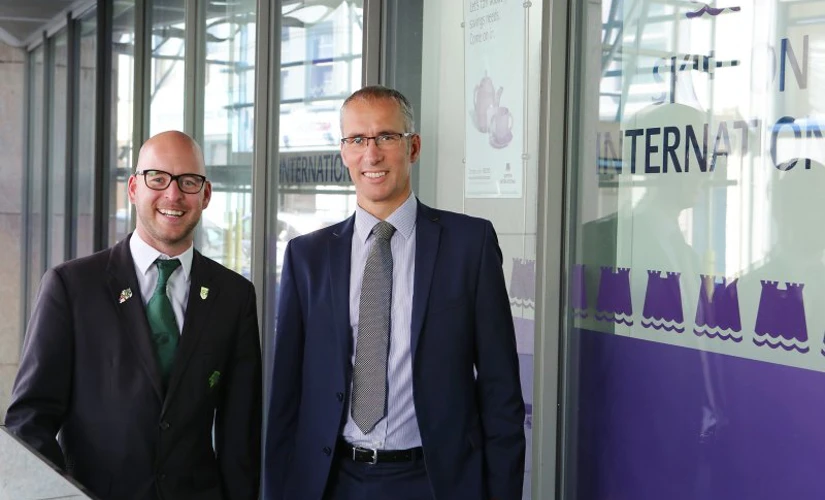 Skipton International, the Guernsey licensed bank, has announced a brand-new sporting partnership with Guernsey FC and FC Isle of Man, in a three-year deal. The Skipton Cup will be contested annually between the two island teams.
This follows the success of Guernsey's landmark visit to play brand-new non-league side FC Isle of Man in their inaugural match, and the return match taking place at Footes Lane on Saturday 12 September.
The teams bonded so well on their first meeting that discussions were soon underway to facilitate the rematch at the earliest possible opportunity. Both clubs are keen to take advantage of the unique and ever-burgeoning relationship the two islands have formed.
Skipton International Managing Director, Jim Coupe, said:
"As an award-winning island bank, we appreciate the complexities of sporting life on a small island. The annual Skipton Cup matches between Guernsey FC and FC Isle of Man will ensure the competitive edge between the two will endure, providing sporting excellence for fans across both Crown Dependencies.
"We already have a number of savers residing in the Isle of Man, and look forward to welcoming some of them, and their friends, to Guernsey over the coming years."
GFC Director Nic Legg said:
"After the friendships we made in the Isle of Man we couldn't wait to welcome the Ravens to Guernsey and hope that, just like the Manxes did, Guernsey fans will turn out in numbers on 12 September to make it a celebration of our club's first home game since February. This brand-new Skipton Cup is something we will all be able to look back on fondly in years to come as an oasis of sporting joy amid challenging times."
FC Isle of Man Commercial Manager, Ty Smith, is equally excited about the upcoming fixture and brand-new annual trophy:
"It is really exciting for the club to compete again against the Green Lions. With a bit more at stake this time in the inaugural Skipton Cup, it promises to be an exciting game for both sets of fans.
"FC Isle of Man, Guernsey FC and Skipton International are all organisations which build strategically and plan for the future. Setting this Cup up as an integral part of both clubs' pre-season preparations for the years to come will not only provide both sets of supporters with a 'Crown Dependency Derby' to look forward to, but will provide both with shared economic benefits and demonstrates Skipton International's commitment to supporting both communities."
The inaugural Skipton Cup takes place at Footes Lane on Saturday 12 September at 18.30, with gates opening at 17.00. There will be live music and children's entertainment.
Our media centre
If you are a journalist requiring more information about Skipton International please contact Julie Todd, PR Manager. Email your queries to Julie.Todd@skiptoninternational.com or call +44 (0) 1481 734002
Contact us