18th Oct 2019
Skipton Swimarathon celebrates record-breaking year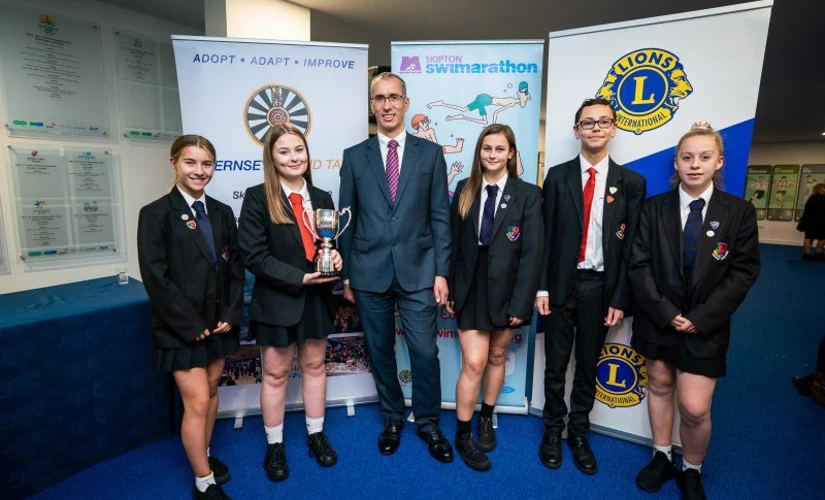 Those that took part in the Skipton Swimarathon were honoured at a special awards presentation last night at Beau Sejour, with St. Sampson's High winning the RG Falla Cup for most funds raised for the event's charitable beneficiaries.
Beau Sejour Swim School and Barracudas won prizes for the most laps completed in the swim school category with Vauvert Junior School, Les Beaucamps High, La Mare de Carteret High, Grammar School and St. Sampsons High all winning awards for the most laps in various age categories.
Managing Director of Skipton International, Jim Coupe, handed out the awards on the night and also received the top trophy for his outstanding contribution to the Swimarathon following the bank's commitment and enthusiasm towards the event over the past ten years.
The evening was a celebration of swimming, with three personal achievement awards presented. Sandra Robilliard won Most Improved Swimmer having only started swimming with the Guernsey Disability Swimming Club 15 months prior to joining their Swimarathon team. Blake Le Ber won the Cable & Wireless award for Special Endeavour and Ruth Parsons took home the Brian Hockey Memorial Trophy for her services to disabled swimming over the past 40 years.
Skipton Swimarathon Chairman, Nick Guillemette, said: "It's been an outstanding year with a new record for funds raised by the Swimarathon. The event never seems to lose its attraction with generations of local people taking part, many of whom are the grandchildren of the first participants in 1976.
There is no doubt that our chosen main beneficiary for 2019, the Cardiac Action Group, has drawn huge support from the general public in Guernsey which has resulted in our record-breaking fundraising and enabling the charity to continue their amazing life-saving service for another year."