5th May 2020
Skipton employee rises to the Lockdown challenge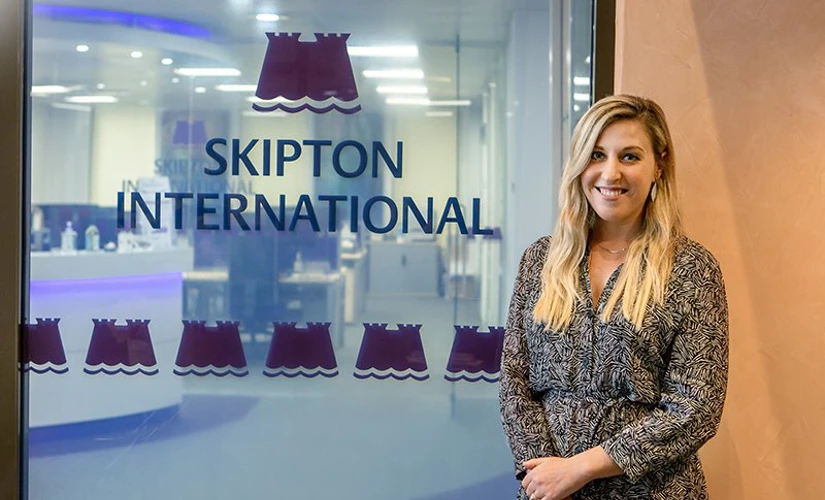 Transferring to new operating models in response to the Covid-19 pandemic and Lockdown has resulted in many business challenges requiring resolution in a short order to ensure customer service is seamlessly maintained whilst implementing social distancing. For one member of Skipton's customer service team the challenge of quickly transferring her team to working from home provided an opportunity to shine. Natalie Cutts-Watson's dedication to her team, her customers with offshore bank accounts and role has earned her promotion to the position of Assistant Customer Services Manager at the leading Guernsey bank.
Whilst her manager was away from Guernsey and during the transition to home working, Natalie stepped in to lead the Customer Services team, and was instrumental in ensuring that Skipton continued to provide its customers with the excellent, personal service for which it is renowned. Natalie joined Skipton in 2017, without prior career experience in finance, but demonstrated she shared Skipton's core values and was eager to learn, quickly completing her Certificate in Banking qualification. Since joining Skipton, Natalie has proved herself to be a great asset to the company, continually receiving compliments about her proactive and friendly approach.
Jim Coupe, Managing Director of Skipton International, said: "During this unprecedented period where we had to adapt our working practices quickly, we have seen many team members working very hard, proactively and successfully rising to new challenges. Natalie demonstrated true leadership qualities, at a level in which she was previously unfamiliar, whilst keeping our customers' needs at the centre of our response. It was a pleasure to recognise her achievements with this well-deserved promotion. Natalie and her colleagues consistently demonstrate Skipton's values, delivering a high standard of customer service and helping us in our goal to become the most recommended Channel Islands bank."
"This promotion is a great example that out of adversity future leaders can shine and that Skipton as an organisation are always ready to recognise and reward true talent."
Natalie said: "To achieve this promotion came as a complete surprise to me, especially at this time. We are a busy department, so it was important that we adapted quickly to changes in our business environment to enable us to continue to address our customers' queries. It's not just 'business as usual' for us, instead we are using these challenges to find ways of evolving our services and progressing the business which will deliver long-lasting positive results."
Skipton International has continually been recognised for its exceptional levels of customer service. The bank was awarded the Feefo Gold Star for Trusted Service in 2017, 2018 and 2019 and this year was awarded the Platinum Award for consistent positive reviews from its customers.
Our media centre
If you are a journalist requiring more information about Skipton International please contact Julie Todd, PR Manager. Email your queries to Julie.Todd@skiptoninternational.com or call +44 (0) 1481 734002
Contact us