27th Apr 2016
Four new promotions for Skipton International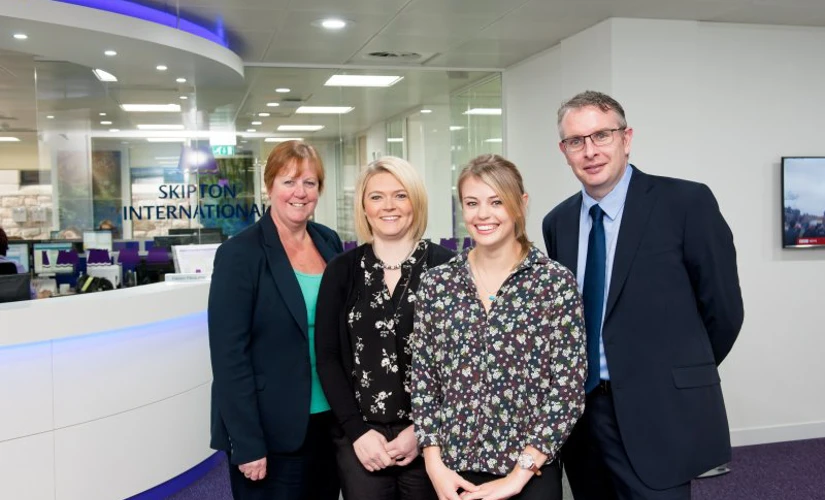 With its new office, and growing numbers of mortgage and savings clients, Skipton International has firmly established its position as a key employer in Guernsey.
As well as attracting new team members, the Guernsey-registered bank has a strong focus on helping develop careers, through training and promotion.
In the past three years, Skipton International's team has grown by 40% and the company now employs 39 people on the island.
Jim Coupe, Managing Director, Skipton International, said: "Customer service is at the forefront of our offering and helping team members achieve their full potential through training and development is vital if we are to achieve this.
"Skipton International has been growing steadily, both for savings and for mortgages – last year we topped £1 billion in deposits from local and expat savers, we are one of the largest providers of new residential mortgages in Guernsey, and have a thriving expat mortgage business."
Four recent promotions include Kate Le Prevost, promoted from Mortgage Underwriter to Mortgage Associate; Becky Mauger, promoted from Customer Advisor to Commercial Assistant; Mellissa Morellec, promoted from Customer Advisor to Trainee Mortgage Underwriter, and John McLoughlin, promoted from Investments Team Leader to Mortgage Services Manager.
After 13 years in finance, and a career break, Mellissa joined Skipton last year and is about to start studying towards the Certificate in Mortgage Administration and Practice. She said: "I was overjoyed to secure a position within the company last year as a Customer Advisor. I had been away from the working environment for eight years after taking time off to raise my children. My Customer Advisor role has given me a good understanding of other areas within Skipton International while the training gave me an insight into my new role."
An English Graduate, Becky, also joined Skipton last year and has already begun studying for a Certificate in Professional Marketing. Her position is a new role, created due to company expansion. She said: "Working at Skipton was my first 'real' job after graduating and being part of the Customer Services Team taught me valuable skills which I will take to my new role. Liaising with the banking and mortgage teams was integral to provide a good and efficient customer experience. With this, I learnt how each team operates which is useful for helping develop and market our products."
Since joining Skipton in 2013, Kate has completed her Certificate in Mortgage Administration and Practice, and her Diploma in Mortgage Administration and Practice, the highest level of qualification for mortgage professionals in the world. She said: "Thanks to the training opportunities and support from Skipton, my career progression has exceeded my expectations and I now look forward to helping to drive the expat mortgage business forward in my new sales role."
John has been with Skipton International since 2009 after the merger with Scarborough CI Ltd. He said: "A lot of training has centered around the systems we use, and this, coupled with external courses in Guernsey and in the UK on leadership and team management, has given me a greater understanding of the business as a whole. Growing my skill set has always been an interest and Skipton has given me the support and opportunities to progress."
As well as being named Guernsey Business of the Year, Skipton International has also been shortlisted in the Best Offshore Account provider category for the 2016 Moneyfacts Awards. This is the 7th consecutive year Skipton International has been shortlisted for a Moneyfacts Award – an independent assessment of personal finance products which Skipton has also won on two occasions.