14th Mar 2023
Guernsey Alzheimers Association gets more than £14,000 at Clive Myrie event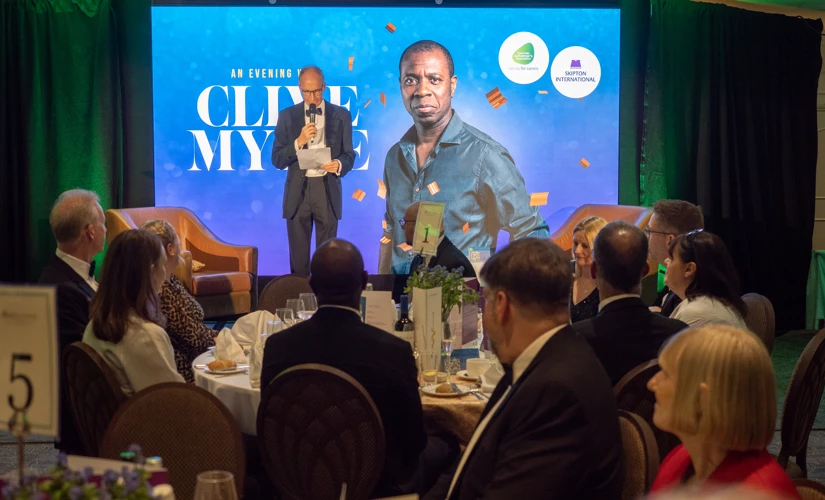 Guernsey's Alzheimer's Association has raised a magnificent £14,000 following a fundraising black-tie dinner last week featuring BBC newsreader, Clive Myrie.
200 guests enjoyed a three-course meal, and an 'In conversation' style presentation from Mr Myrie. The on-stage discussion was hosted by Channel Island journalist, Kate Prout.
Following a welcome speech by chairman of Guernsey Alzheimer's Association, Stephen Collas, Mr Myrie was introduced to the stage by close friend and Guernsey resident, Lord Digby Jones.
The event was sponsored by Skipton. Their Managing Director, Jim Coupe, said:
"I am thrilled that the evening has raised so much money for this extremely valuable local charity. We brought Clive to the island for a number of projects, and it is so rewarding that we were able to support the charity in this way."
Julie Thompson, Manager of Guernsey's Alzheimer's Association, said:
"We are ecstatic that such a large amount was raised from our charity black-tie event. The money will be used to continue our work supporting those who care for Alzheimers sufferers in the community.
"Our thanks go to Mr Myrie for being so entertaining, everyone who donated raffle prizes, those guests who participated in the silent auction and, of course, to Skipton, for their generosity and support throughout."
The charity can be contacted at: www.alzheimers.gg or by telephoning 245121.