7th Nov 2017
Skipton Swimarathon donate £25,000 to the Children's Library Project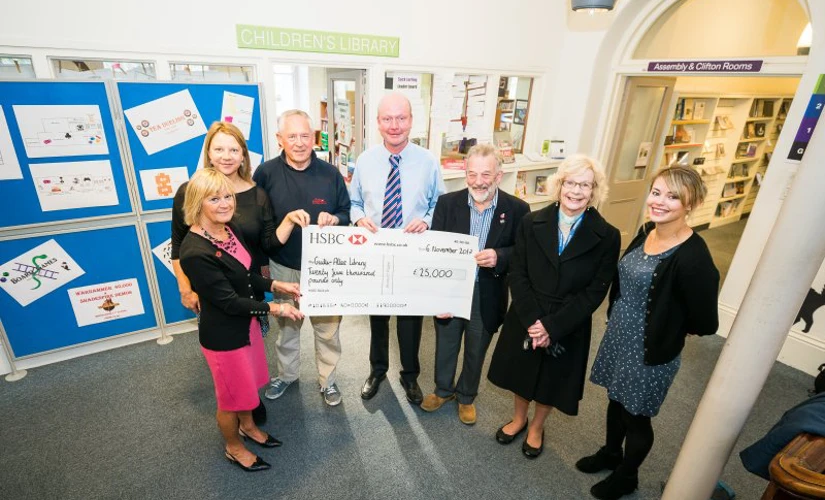 The Skipton Swimarathon committee was delighted to present a cheque of £25,000 to the Guille-Allès Children's Library Project from their fund raising efforts.
The Guille-Allès Children's Library Project was the main beneficiary for the 41st Skipton Swimarathon. Project coordinators will use the donation to develop an engaging environment that will spark the imaginations of children while they read and learn. 
Nick Guillemette, Chairman of the Skipton Swimarathon, said: "It seems like a long time ago that the Skipton Swimarathon Committee chose the Guille-Allès Children's Library Project as our main beneficiary, but I am so proud of all the money our swimmers raised and it gives me great pleasure to pass over this cheque to support the creation of a fantastic new children's library."
The Skipton Swimarathon traditionally chose one main beneficiary to donate the majority of funds too with the remainder then split between charities chosen by co-organisers the Lions Club and the Guernsey Round Table.
Cornelia James, Children's Librarian at Guille-Allès Library, said: "We are all so delighted to receive this money from the Skipton Swimarathon. I would like to take this opportunity to thank everyone who took part in the swimarathon this year, your money will help inspire generations to come as they learn to read."  
Aaron Walden, Skipton International's Commercial Manager, said: "The Skipton Swimarathon is a community event that is enjoyed by so many children at both the At Large events and the main event at Beau Sejour. Skipton International is glad that this year we supported a charitable project focused on benefiting children, to demonstrate both ours and the Bailiwick's dedication to supporting the next generation."
This year a record breaking 2,000 plus swimmers took part in the event raising in excess of £50,000.