8th Mar 2016
Property Prices in the Channel Islands Close to London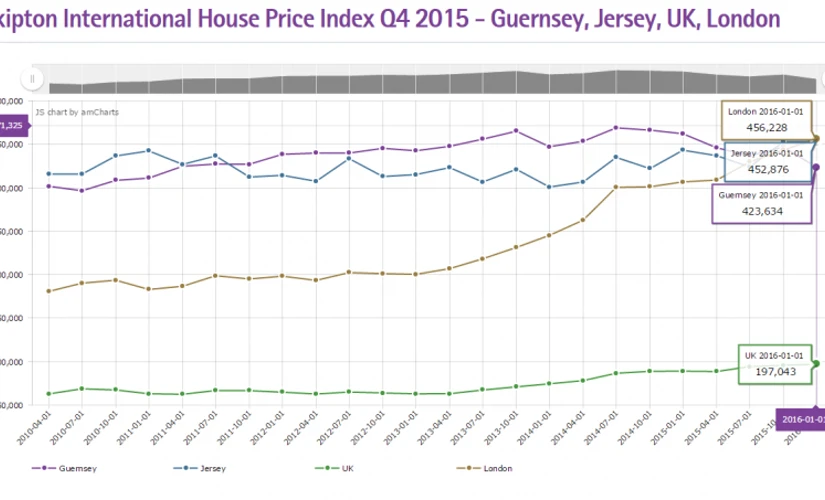 Guernsey, Jersey and London form 'golden triangle' of property
The Skipton International House Price Index shows average house prices in Guernsey and Jersey are almost equal to London figures for the first time.
In quarter 3 of 2012, house prices in London were around 30% lower than those in Guernsey and Jersey, however, huge price rises in London from early 2013 have closed that gap.
The Skipton International House Price Index is the first of its kind displaying updated property prices for Guernsey and Jersey alongside those for London and the rest of the UK.
Figures for quarter 4 2015 put the average house price in Guernsey at £423,634, compared with Jersey at £456,022, and London at £456,229.
This is the closest the three housing markets have been since quarter 3 2007, when the average house price was £302,486 in London, £334,401 in Guernsey, and £368,820 in Jersey.
Average house prices for the UK as a whole have changed the least over the same period, moving from £184,131 to £197,044, up from a low of £149,709 in quarter 1 2009. The index shows that after a jump in 2007, house prices have been rising steadily in Guernsey, while Jersey figures have been choppier within a small range.
Jim Coupe, Managing Director, Skipton International, said: "The Channel Islands didn't see the big drop in housing prices which happened to the UK and the London markets in 2009. Although housing prices in Jersey went down marginally over this period, they were tempered by minor price rises too. The Guernsey market remained very stable, climbing gradually.
"The gap which existed between house prices in the Channel Islands and London has disappeared and average house prices in all three markets are currently very close. The big gap now is between the Channel Island and London markets, together with the rest of the UK, where average prices are less than half what they are in the Guernsey-Jersey-London triangle.
"By displaying this information on the Skipton International website, it gives prospective home owners and expat-investors the most up to date figures available for areas they are thinking of buying in."
The data was collected from information supplied by the States of Guernsey (Policy and Research), States of Jersey (Statistics Unit), and Nationwide Building Society House Price Index.