26th Oct 2021
Make a splash at the Guernsey Boxing Day Dip
Skipton International has announced a brand-new partnership with the Guernsey Cheshire Home to sponsor the popular annual Boxing Day Dip.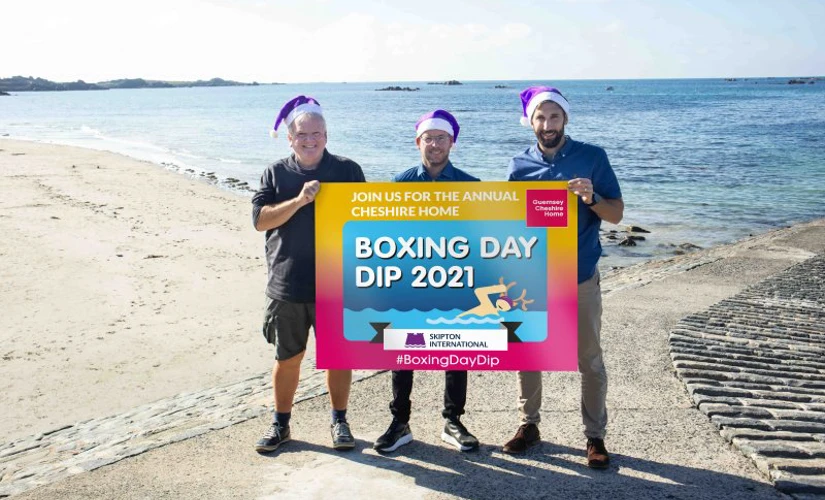 Over 3,000 swimmers turned out on Cobo beach last year, many in fancy dress. The organisers gave out 2,500 mince pies, with mulled wine and hot drinks on offer.
All funds raised go towards the upkeep of the Guernsey Cheshire Home, where annual costs are currently around £1,100,000. With no States' funding, the home is entirely reliant on fund raising and donations.
Skipton International has a proud history of supporting local community events such as the Boxing Day Dip. Known locally as 'the bank with a heart', it supports a number of community events across the Bailiwick, including the Skipton Swimarathon, which raised in excess of £80,000 for local good causes this year.
Jim Coupe, Managing Director at Skipton International, said:
"As a locally-based bank, Skipton is proud to support events such as the Boxing Day Dip, making a real difference to the community. We are in awe of the great work done at the Guernsey Cheshire Home and can't wait to participate in this year's Dip – irrespective of the weather!"
Nic Mountain, Manager at Guernsey's Cheshire Home commented: "The Boxing day Dip has become something of a Guernsey tradition and the sight of 3,000 swimmers running towards the sea in their Santa hats is quite something. We are thrilled that Skipton has decided to partner with us, and, with their valuable support, we look forward to raising much-needed funds for the Cheshire Home."
The Boxing Day Dip will take place at Cobo Beach on Sunday 26 December 2021 at 10:30am. Donations to the Guernsey Cheshire Home can be made at: www.giving.gg
Our media centre
If you are a journalist requiring more information about Skipton International please contact Julie Todd, PR Manager. Email your queries to Julie.Todd@skiptoninternational.com or call +44 (0) 1481 734002
Contact us