13th Sep 2016
Banking centenary for five Skipton International team members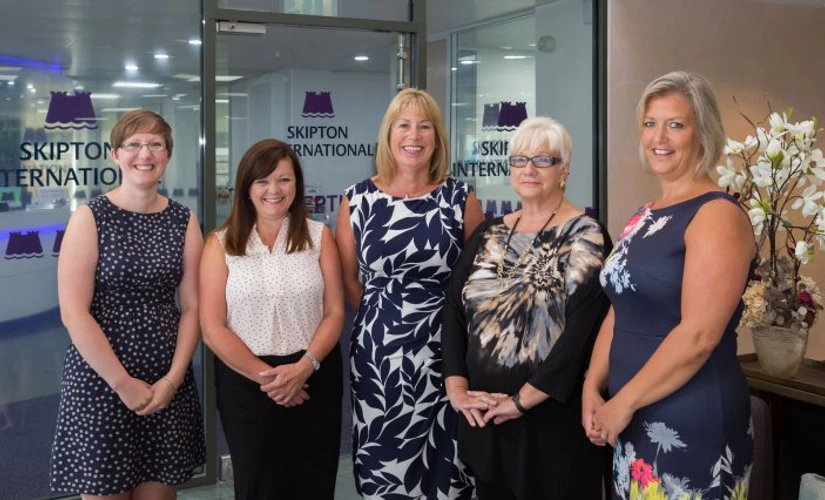 Five team members at Skipton International celebrate a combined total of 106 years with the company this year. Jean Whalley, a Senior Mortgage Administrator, joined the Royal Bank of Canada (RBC) in 1990. RBC administered Skipton Guernsey as a managed bank when they launched in 1995.  Back then, there were just three members of staff and the company dealt solely with investments. 21 years later, Skipton International has over 40 team members, and offers a range of offshore savings accounts, residential and expat mortgage products.
Jean said: "Skipton has grown significantly since I joined. Skipton started lending in Guernsey in 2002, then in Jersey in 2005 and then to British Expats in 2014. One of the biggest changes was when Skipton amalgamated with Scarborough Channel Islands in 2009.
"The number of banks in Guernsey has reduced a lot over the last 10 years. Whilst there have been many advances in technology such as on-line banking, our customers still enjoy the personal touch."
For Lisa Bourgaize, the scope of developing her career as her family grew up has been an important factor behind her 23 years with the company. The Mortgage Administrator began her career as a Banking Administrator, switching roles six years ago, then going back to work full time this Spring.
Lisa said: "The company has changed massively since I joined but the ethos of putting customers first remains the same whichever sector of the business you're working in. It has been a brilliant place to work over the years both part time, and full time, while bringing up my family."
Annette Renouf joined Skipton as PA to the MD of the time, after having worked with RBC since 1995. Annette completed the Certificate in Human Resource Practice in 2011 and is now Skipton's HR and Office Manager.
She said: "When I joined Skipton 21 years ago, we had 12 members of staff and we now have 42, plus an additional three employees joining us this autumn. Growth has been steady as the business has expanded, resulting in our move to new premises in the town centre earlier this year to accommodate us all."
Celebrating 20 years with Skipton, Investment Team Leader Lynda Taylor has seen first hand how Skipton's banking offerings have developed since she began her career with them as a Banking Administrator.
She said: "Banking took a bit of a knock during the global financial crisis in 2008, but Skipton remained on track, giving clients peace of mind for their savings. The biggest change I have dealt with was our amalgamation with Scarborough, ensuring data was compatible in the system with no adverse effects on the clients. However, some of the most enjoyable moments have been in the past few years; winning Guernsey Business of the Year was a big achievement for the company, while awards such as Moneyfacts Best Offshore Account Provider have been very positive too."
With 16-years at Skipton, Nicola Green, has noticed the profile of the company developing since she started as a Customer Advisor. After significant amounts of training and exams, Nicola is now Assistant Manager Finance & IT. She said: "Taking on a mortgage book, merging with Scarborough, and moving offices have all been major steps for Skipton. The company is much better known around the world and it's exciting to think what the next stages will be."
Skipton International is one of Guernsey's largest providers of new residential mortgages, and has a fast-growing expat mortgage business, providing buy-to-let mortgages for British expats who wish to invest in the UK.
At the end of 2015 Skipton International reached £1.075 billion of deposits, making it equivalent to the 12th largest building society in the UK.
Earlier this year Skipton International was named Guernsey Business of the year at the Guernsey Awards for Achievement, an award which recognizes commercial excellence in the Bailiwick.  Skipton also won Best Offshore Account Provider 2016 at the Moneyfacts Awards.
Jim Coupe, Managing Director Skipton International, said: "Skipton has grown considerably since some of our original team members started here. It's brilliant to see how many people have progressed their careers at Skipton. They have made the most of the training and development we offer to take on new roles with us, while embracing new challenges, and to be a part of our business as we expand our mortgage and offshore banking products.
"A century is a long time in banking but it's thanks to team members such as Jean, Lisa, Annette, Lynda, and Nicola that we can consistently offer customers the excellent service they have come to expect, in Guernsey, the rest of the Channel Islands, and to expat customers all over the world."