9th Aug 2019
Art at the heart of Skipton's home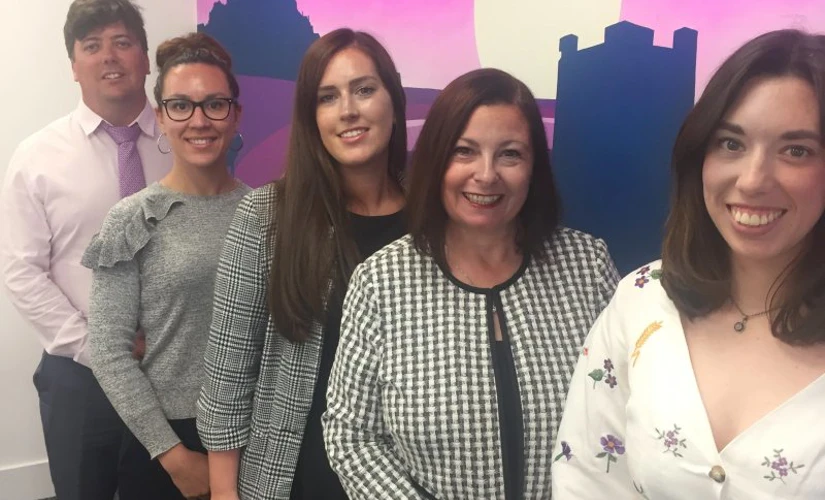 Skipton International has cemented its commitment to the local art community with a new giant mural taking pride of place inside its Waterloo Street Mortgage Centre. The installation was designed and painted by artist and graphic designer Gabriella Street to celebrate its sponsorship and involvement in ArtHouse Jersey's Skipton School Mural Project.
The partnership between the Channel Island bank and the artist and graphic designer is particularly poignant, with Gabriella crediting Skipton's past support as one of the main contributing factors to her success.
Gabriella said: "A real turning point for me was taking part in the Skipton Open Studios last year. I wasn't sure my work was of high enough quality, but the opportunity really helped my confidence and established some important contacts within the island that has allowed me to develop and grow. It's been such an honour to repay the favour by bringing the mortgage centre to life with one of my designs and I hope that their example may encourage other offices to get creative too."
Skipton has supported ArtHouse Jersey's projects for nine consecutive years, working with the local arts charity to deliver a variety of innovative and meaningful community art projects to encourage artistic talent to flourish on the island. The design in the Mortgage Centre reflects elements of island life and those communities who have been touched by Skipton's support and services.
Lorraine Mclean, Mortgage Sales Manager at Skipton said: "We have enjoyed a long relationship with the arts community in Jersey as we see art as a great medium with which to unite people and that can make Jersey a brighter and more vibrant place for us all to enjoy.
"Having the mural in our office demonstrates that it's not always about offering financial support, but about giving these artists a platform through which to shine. Hopefully our customers will enjoy the mural and be interested in exploring Gabriella's artwork further."
Skipton International celebrate its 10th anniversary in the Channel Islands this year, offering a wide range of Jersey mortgages and offshore savings accounts. Its award-winning customer service and competitive products ensure that it is regarded as the community bank of choice.
Our media centre
If you are a journalist requiring more information about Skipton International please contact Julie Todd, PR Manager. Email your queries to Julie.Todd@skiptoninternational.com or call +44 (0) 1481 734002
Contact us