24th Aug 2021
Deputies and the Media lead the Skipton Swimarathon charge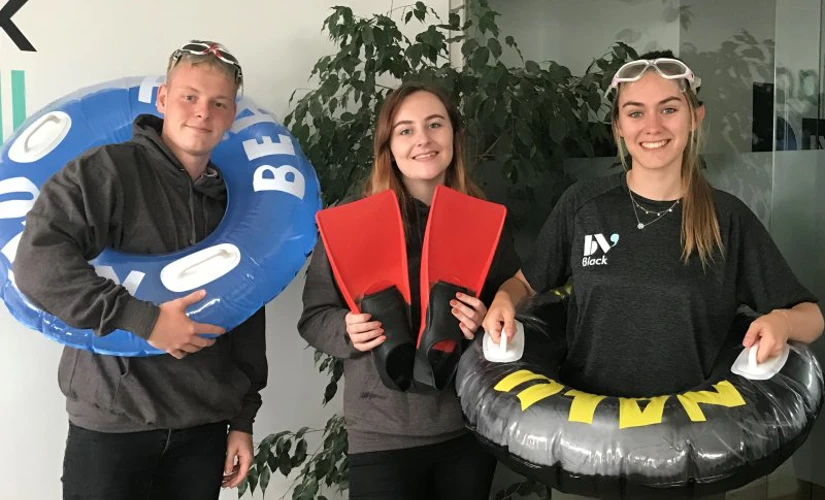 More than 2,500 swimmers will take to the pool at this year's Skipton Swimarathon, swimming the equivalent distance from Guernsey to the coast of Spain. The community event is a highlight of Guernsey's charitable fundraising calendar, with a variety of family, friends and corporate teams taking part, in addition to the schools.
This year will see a team of States Deputies taking the plunge. Organised by Deputy Andy Cameron, the team will include Deputies Andrea Dudley-Owen and Tina Bury.
Deputy Cameron said: "I'm a keen open water swimmer so was pleased to organise a team of deputies for this event. Deputies volunteered within a few minutes of me sending out the invite - I think all of them have enjoyed participating previously. We're mixture of abilities, I don't think we'll be breaking any records in the pool but hopefully we'll raise a good amount towards the chosen causes of PPBF and Citizens Advice."
Another fun challenge will come in the form of a media night, with teams from the BBC, ITV Channel, Guernsey Press, and a number of local PR and advertising agencies all participating.
Nichole Culverwell, Managing Director of Black Vanilla PR, said: "The Skipton Swimarathon truly is a highlight of our community calendar. The atmosphere in the pool is always brilliant and the whole event is so well organised. It's quite incredible to see the huge variety of organisations and people taking part, everyone just having fun and getting involved for a good cause. "
This year's event is raising funds for two main charities: the Priaulx Premature Baby Foundation and Citizen's Advice, Guernsey.
Nick Guillemette, Chairman of the Skipton Swimarathon Committee said:
"We are been blown away by the continued enthusiasm of islanders towards this event. This year we have had a record number of entrants.
"We would like to thank everyone who has booked to take part for their generosity and enthusiasm, which is an inspiration to us all involved in the organisation. We remain especially grateful to our sponsors, Skipton International, for their ongoing support over the years and for making the Skipton Swimarathon a highlight of Guernsey's social calendar."
The Skipton Swimarathon will take place between 29 September and 03 October. Come and swim with us! For more information, please visit www.swimarathon.org
Our media centre
If you are a journalist requiring more information about Skipton International please contact Julie Todd, PR Manager. Email your queries to Julie.Todd@skiptoninternational.com or call +44 (0) 1481 734002
Contact us